Rescue Dogs that have been rehomed
These are some of the rescue dogs we have rehomed
Gary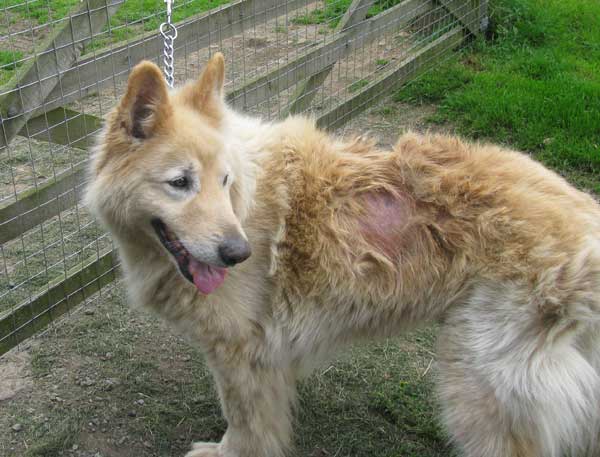 Gary is a gorgeous boy, castrated, think he's about 5 years old was found tied up in a quarry, in a poor state. He is good natured, very friendly, Ok with other dogs. Got 2 bald patches on either side and is on antibioitics for this, he's had his ears washed out and been treated with Spot On. Very thin and will need lots of TLC to get him built up. Not been a problem at all in the kennels and will make a very loyal companion..
Rex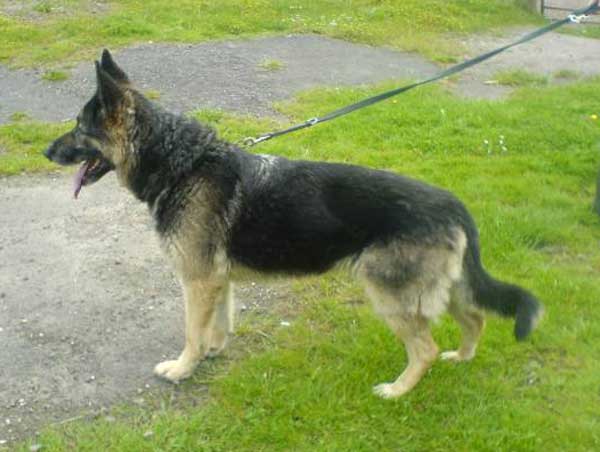 Rex has only ever known life in a yard where he was kept with a female GSD. Neighbours complained about the dogs barking so the owner was told to either get rid of them or have them put down. A home for Rex wasn't found in time so the owner contacted a vet to make an appointment to have Rex put down!! The vet surgery contacted us to see if we could help. Of course we would not allow Rex to be put down. He was very stressed and scared when he first went into kennels, but he has chilled out now. We want a nice home now for Rex where he can learn how to enjoy life and experience walks and home comforts.
Tasha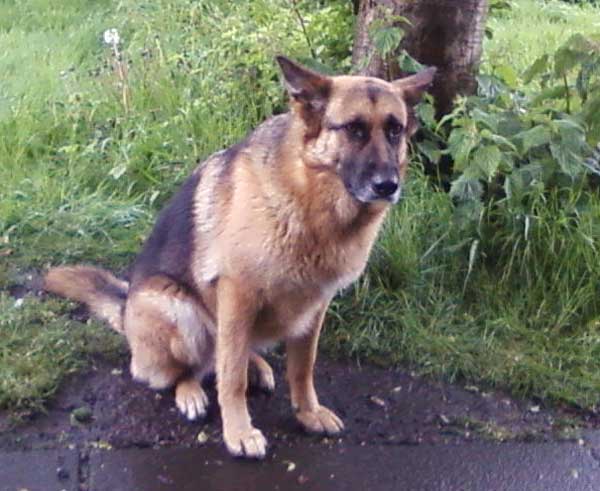 This lovely girl is Tasha, a 3 year old B/T short coat, spayed, extremely friendly, would lick anyone to death. When she was a puppy she was knocked down by a car so she has a pin in the back right leg. Having said that, she can walk for miles without any bother, in fact she seems to stiffen up if not walked. Tasha is clean in the house and goes to her bed herself around 9pm, She is alright with male dogs as long as they don't go near her rear end, if they do, she just gives a bit of a growl. Has excellent recall and is generally a lovely dog looking for a home where she will be much loved.
Kara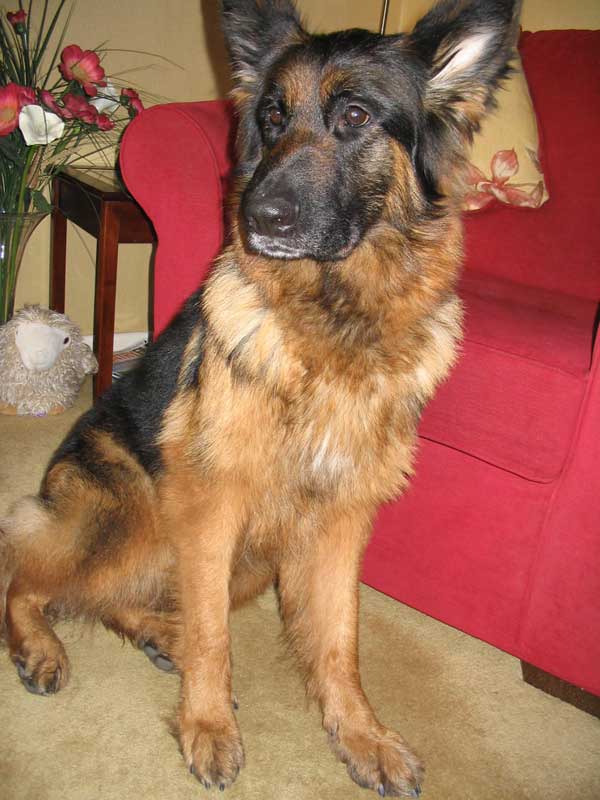 Kara is a 3 yr old black/tan long coat. She is spayed. She is great with children of all ages. She is ok with other dogs but does bark and lunge at them, she has been in a foster home with 3 other bitches was fine but then started to be higher in the pack.She barks at traffic and anything that is unfamiliar. We feel she would be best suited to a country home. She is fine with people not sure about cats. We have now placed her in a place that is working with her issues but she would love to find her forever home. She came originally from a breeder that had used her for pups, this is why we think she is the way she is with traffic etc. She needs a kind loving home someone who has the time and patience to help her work through this, she is a very pretty girl.
Grace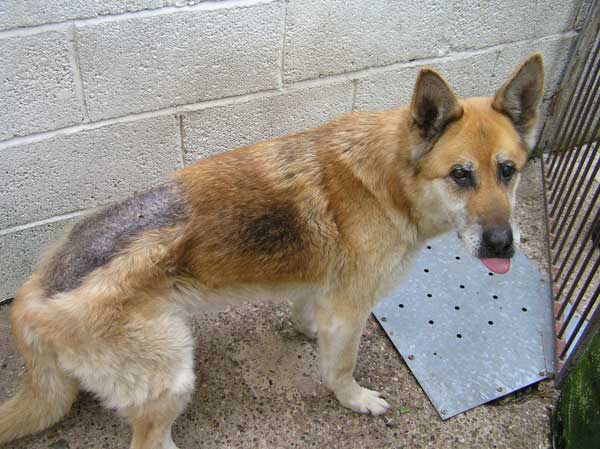 Grace is about 9 year old and was rescued from the pound. She has had a very bad burn on her back and is now having treatment for that. She is a very friendly girl and will make somebody a lovely companion. We don't know what's happened to this girl previously but she certainly deserves a loving home now, where she can be cherished.
Ben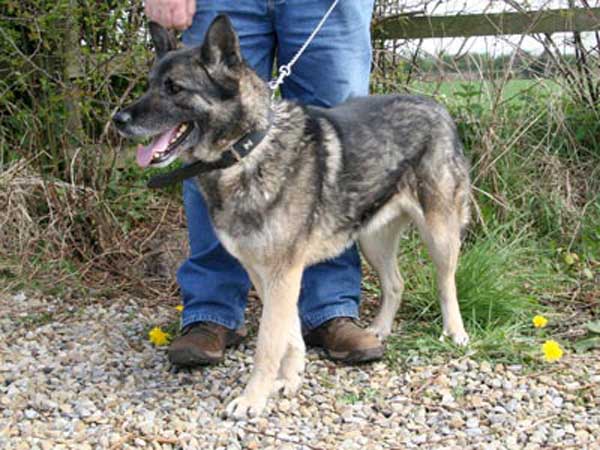 Rescued from death row. Ben is a sable older male, think he is about 6 years old but appears very fit and healthy. A friendly dog. Please don't overlook him because of his age..
Samson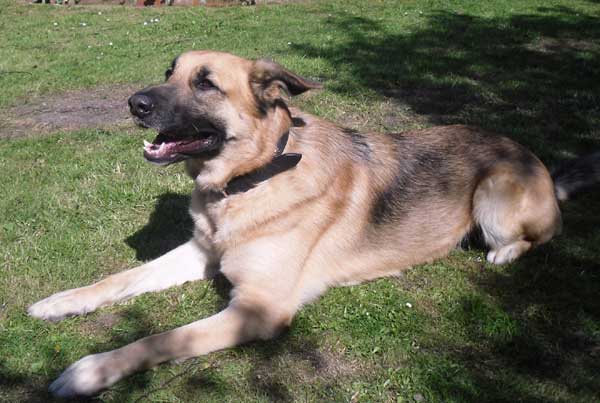 Samson is simply stunning - although his ears don't point North, he is very handsome. He is a 2? year old neutered male, he is fully vac'd and wormed. Samson has a lovely temperament, was very welcoming when I went into the home and is well behaved. The currently owner has been working on training him but unfortunately due to her health she is not able to continue. He has lived with children but can be a bit quick in taking food, so older children may be better for him. He currently lives with an older labrador and two cats. Unfortunately the owner has not had the confidence herself to introduce him to dogs outside the home so is not sure how he would react. He does jump up but she feels this is wanting to play rather than out of aggression. He is living with two cats but again careful introduction as he really wants to play. Samson was bounding around like "tigger" in the owner's garden when I tried to take some photos. He did jump up and nip, this was purely out of excitement and not aggression and when told not to he came, layed down and calmed down. This young lad needs a home where his training will continue and he will get plenty of exercise.
Shy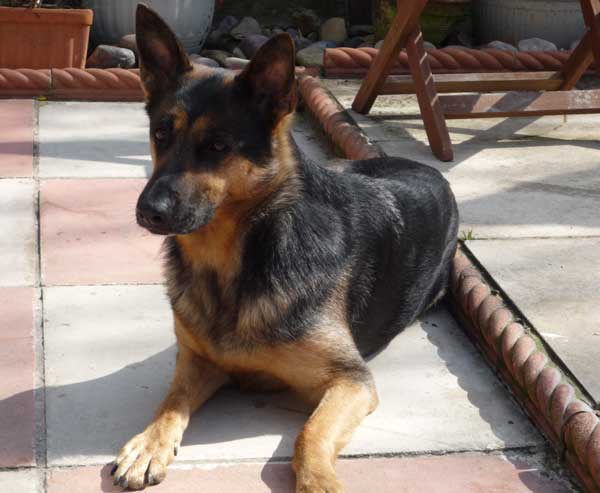 Shy by name a little "shy" by nature. She is a lovely 3? year old black and tan bitch. She is good with children of all ages and currently lives with a baby. Shy also resides with a cocker spaniel at present and is good with other dogs when off the lead. Although she doesn't like cats in her territory, she has stayed with other people who have had cats, with no problems. Shy is a little uneasy with strangers at first but will listen to commands and settle down. She does get a little claustrophobic and doesn't like small places, can get a little stressed with new experiences. However, she is a dog willing to listen and is good out on a lead, bounds of energy, loves water and very inquisitive wanting to be involved in everything. She will make a lovely dog for someone willing to give her the time to come out of her shell and show her real loving nature. Apparently she loves a cuddle in bed!!!! She is up for re-homing due to an unforeseen new baby and lack of owner's time..
Posh and Becks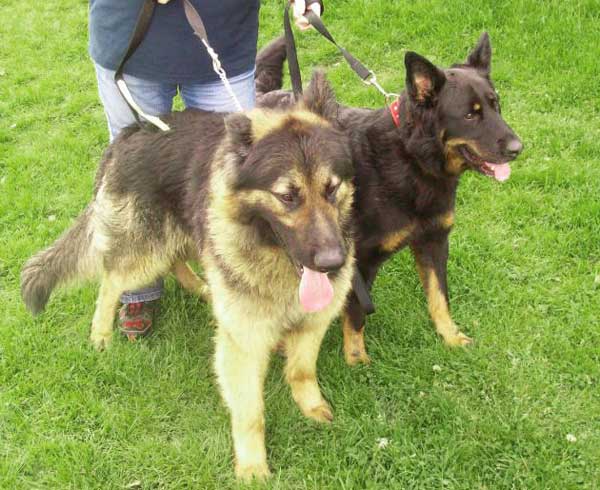 This is Posh and Becks, 2 gorgeous GSD's tied up and left in a field. He is big and bouncy, mouths a bit and probably 12-18mths old. She is quieter and calmer and again not that old. Not much history as they were abandoned but they both seem lovely dogs.
Jake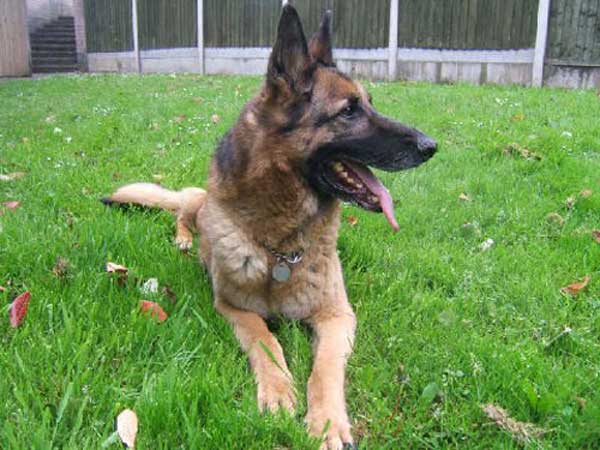 Jake is 9 years young and is still active, he is an ex police dog went through the training obedience etc but failed due to his lack of aggression, he lives with an 13 yr old gsd bitch and is fine when meeting other dogs of his size or bigger but doesnt like small dogs and will chase cats, Jake is good with children from babies upwards. Jake is terrified of water so couldnt be bathed. He is looking for a new loving home because his present owner has just split from a very violent relationship and has to move where she cannot take him. Jake is vaccinated. When the volunteer went around to assess Jake he didnt even bark at her and allowed her to fuss him, he took treats from her very gently and then lay at her feet
Laika is a handsome, friendly and loving dog. He currently lives with 2 other shepherds, one male and one female, who he gets on well with. He has never been around children and definitely does not like cats. He can be nervous aggresive in new situations but is generally well behaved. He needs some lead training as he does pull. He will return on command and sit/stay too..
Skits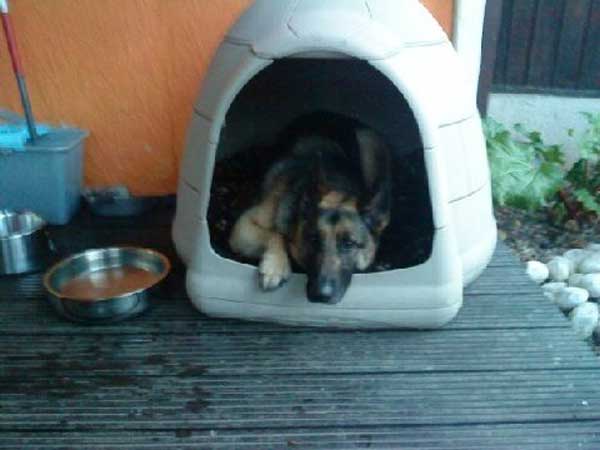 Skits is a 7 year old spayed bitch, she isn't a very big girl who loves her home comforts, she would rather stay in all day and is very wary of the outside world, she is very wary of men but loves women, Skits does not like cats and would be better in a home without children or any other pets.
Rescue German Shepherd Dogs now rehomed 1 2 3