More Rescue Dogs that have been rehomed
1 2 3 4 5 6 7 8 9 10 11 12 13 14 15 16 17 18 19 20 21 22 23 24 25 26 27 28 29 30 31
These are some of the rescue dogs we have rehomed
Lady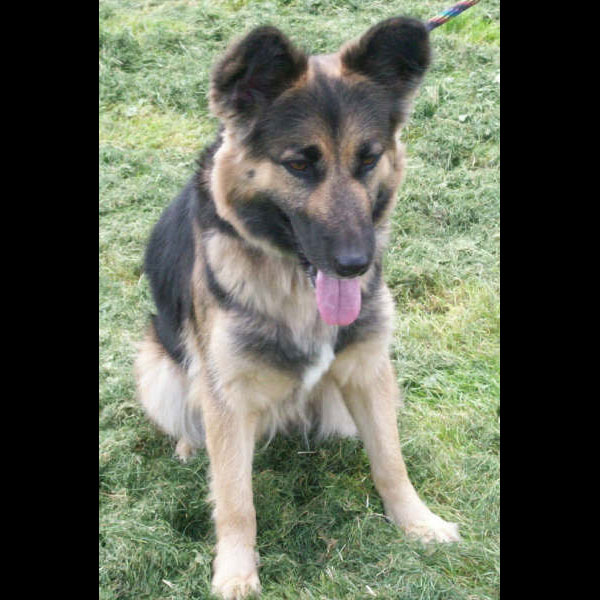 This poor little dog is stressed, not surprising really as she has been passed from pillar to post. Microchipped to an address in Coventry, owner rehomed her to someone in Dudley 3 months ago, unfortunately they do not have the details of the new owner! It appears she has had 3 homes in 3 months. Kennel guards but has been lovely with the kennels staff.
Ozzie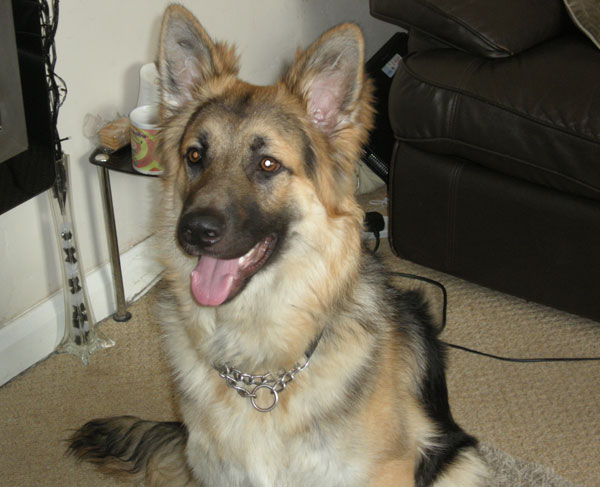 Ozzie is an entire 10 month old black and tan semi coated bundle of fun, he lives with four children and is very good with them, he doesnt like cats and has never had any direct contact with other dogs but seems uninterested over the park, Ozzie is not getting the attention he needs and is looking for lots of love and attention, he is vaccinated. Is wary of strangers in the house
Kelsey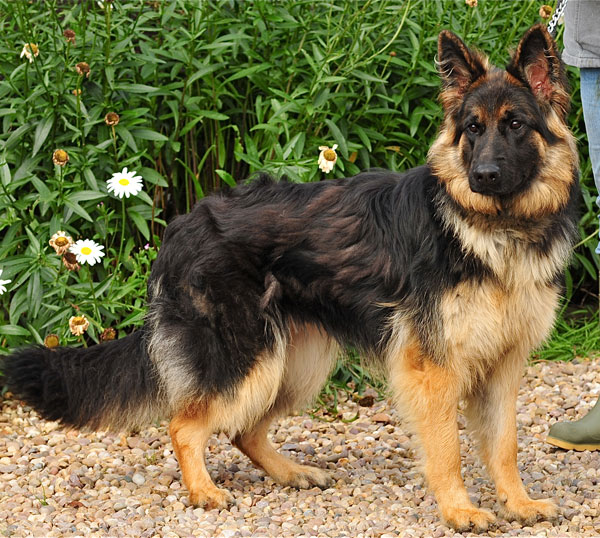 Kelsey has come into the rescue as her owner has suffered a stroke and has sadly had to part with her due to health reasons. Lovely long wavy coat, beautiful looking dog. Friendly and seems OK with the other dogs at the kennels. Kelsey is 14 months old and her date of birth is 23.6.08. She is micro chipped. KC vaccination due November 09 and she is due this month her normal vaccinations. Kelsey has been spayed. She has passed her good citizen puppy training in November 08, and the paperwork that came with her says both her parents had excellent hip scores.
Kev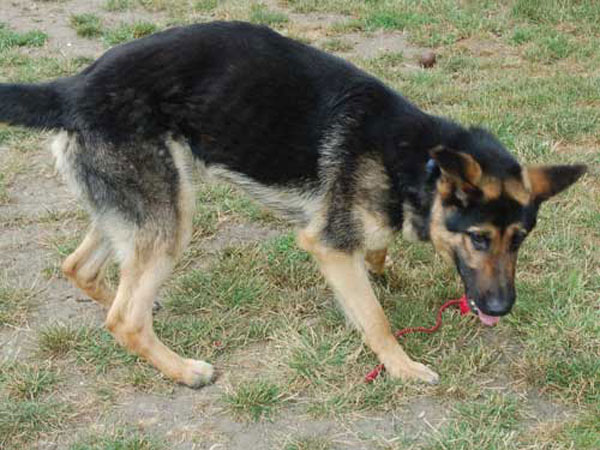 This is our Kev who is 100% fun. We reckon he is crossed with a kangaroo - he has huge powerful back legs but someone gave him the wrong head. It's a bit small and his ears are floppy - but very cute!! As GSD's go, he is big being tall and long in the body. No to young kids as he big and bouncy and jumps up and he mouths if you allow him to. He would love a family with teenagers who would play footie with him. He needs lots of exercise, he is bored in kennels and needs a home now. Needs fit owners.
Jerry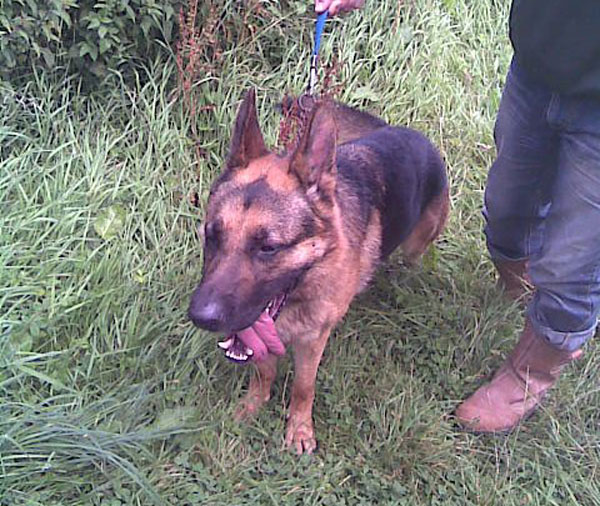 Jerry is nearly 5 years old and entire, he has a lovely nature and did not show any signs of aggression. He is quite boisterous but this is due to him not getting any stimulation of any kind. With the right owner he will make an excellent companion, he is very thin so will need small regular meals to build him up. Ok with other dogs and children
Blaze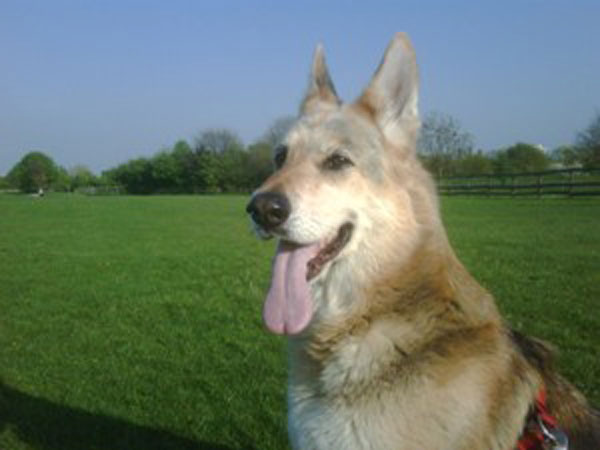 Blaze is an older girl who is looking for a nice home with someone who wants a calm dog. She is good with other dogs and good with children. She is very friendly with people coming and is a real little sweetie. She is very obedient and excellent off the lead and on the lead. She is very quiet at home and an easy dog to do in all ways although she does still like her walks and to play. Blaze is micro chipped and vaccinated. Blaze does have a slight illness that has been thoroughly investigated by the current owner and for which she is on medication. The vets have said that there is nothing untoward and her quality of life is excellent. Don't let this put you off she still has many years to give someone. She is being re homed as her current owner inherited her when the partner passed away and work commitments mean that she is having difficulty giving her the quality of life she deserves.
Sabre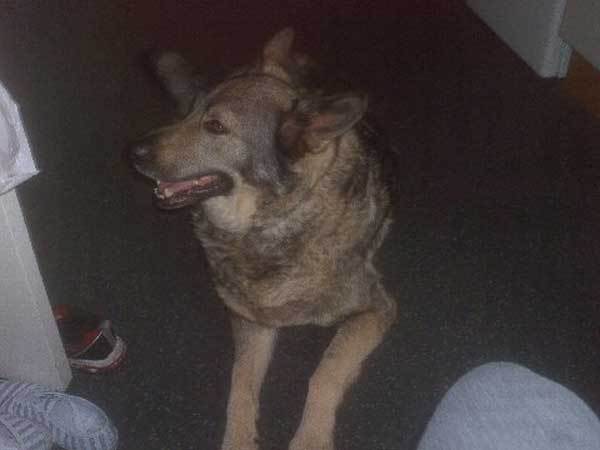 Sabre is an 8 year old neutered male who has started to get a bit grumpy around the young children of the house. At the moment he has an ear infection, which is being treated, and this may well be the reason he is getting grumpy. He is a loving dog and is good on the lead. His recall is not good and needs to be worked on. Sabre is not assessed yet. Can anyone offer this older boy a quiet loving home.
Stirling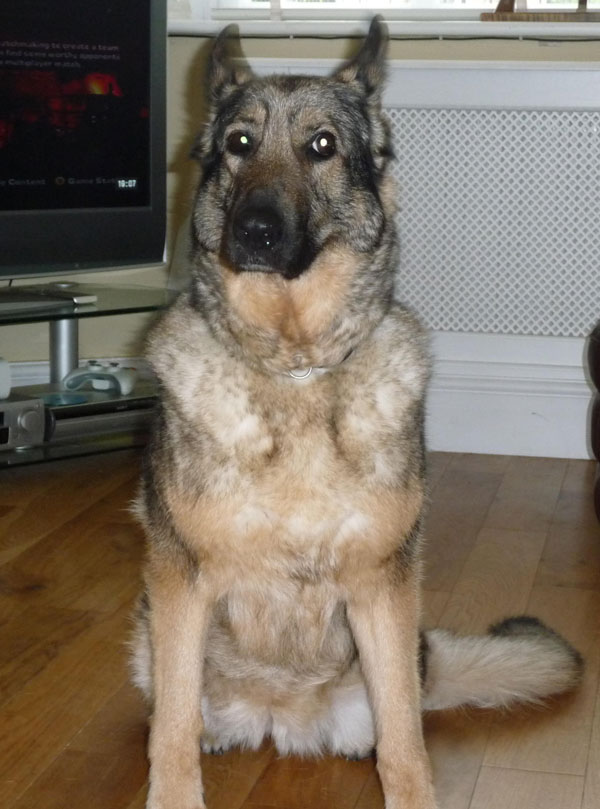 Stirling has been described by her owner as the perfect dog. She has been around children of all ages, lives with a Cocker Spaniel and is good with cats. She is good when out on a lead and travels well in the car. She has no negatives about her and she is only up for re homing due to her owner's work commitments and the amount of time she is being left at home alone. If you are after a dog for "potter" walks and company, then she is the dog for you. Please don't be put off by her age she is healthy and has many years of love to give someone new.
Samson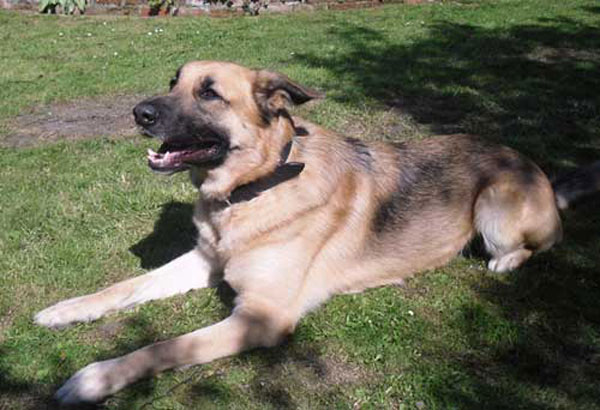 Samson is simply stunning - although his ears don't point North, he is very handsome. He is a 2? year old neutered male, he is fully vac'd and wormed. Samson has a lovely temperament, was very welcoming when I went into the home and is well behaved. The currently owner has been working on training him but unfortunately due to her health she is not able to continue. He has lived with children but can be a bit quick in taking food, so older children may be better for him. He currently lives with an older labrador and two cats. Unfortunately the owner has not had the confidence herself to introduce him to dogs outside the home so is not sure how he would react. He does jump up but she feels this is wanting to play rather than out of aggression. He is living with two cats but again careful introduction as he really wants to play. Samson was bounding around like "tigger" in the owner's garden when I tried to take some photos. He did jump up and nip, this was purely out of excitement and not aggression and when told not to he came, layed down and calmed down. This young lad needs a home where his training will continue and he will get plenty of exercise.
Mica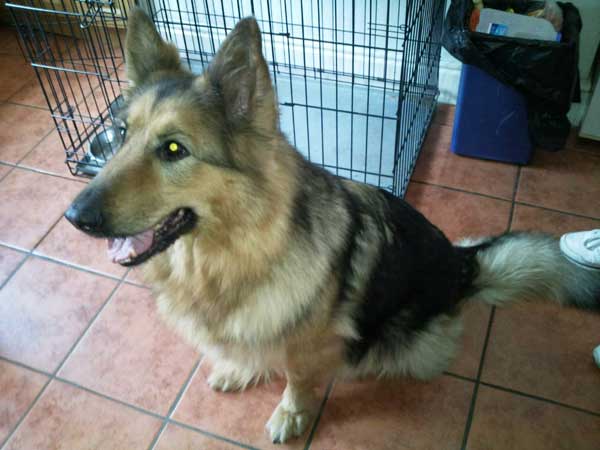 Mica is a 6 yr old entire bitch. She is Black / Tan Long coat. She is not Vac. or Micro Chipped. Owner says she doesn't get on with other dogs, cat or Children. Although Mica has lived with an other dog. Comment from our volunteer that assessed Mica. Mica is full of beans and needs an experienced GSD owner who can give her the time, space and exercise that she needs. At the moment, the lack of stimulation is contributing towards her (mis)behaviour. She seeks attention and this showed when she was mouthing Linda and me and barking for attention. She walked okay on the lead with me, although she did pull a little. We were told that she has good and bad days on the lead and because of this she is always muzzled in public. She hasn't really been socialised outside with other dogs, partly because the owners are reluctant to let her off as they have had a few "near misses". She can be a bit unpredictable with certain inanimate objects. She does obey basic commands, if given and rewarded properly and will make a lovely companion for the right owner..
Shadow

This is a lovely boy he came in with sister Ella who has now found her new home, When Shadow came to us he was very excitable and bouncy he has now calmed down and a very happy dog. he has never shown any aggression to any of the other dogs, the cats around he looks at but when asked to continue on his walk he does so with no bother. He needs a family that likes exercise as he will need lots to burn off his energy. He is fine with children no aggression but we feel he may be better suited with older children just because of his size and the fact that he is still bouncy and may knock them over.He has been vaccinated. All in all will make a very good family dog. Although crossed with an Akita Shadow, has the temperament of a GSD. He is happy to be with you and will make someone an excellent 'pal'.