More Rescue Dogs that have been rehomed
1 2 3 4 5 6 7 8 9 10 11 12 13 14 15 16 17 18 19 20 21 22 23 24 25 26 27 28 29 30 31
These are some of the rescue dogs we have rehomed
Benji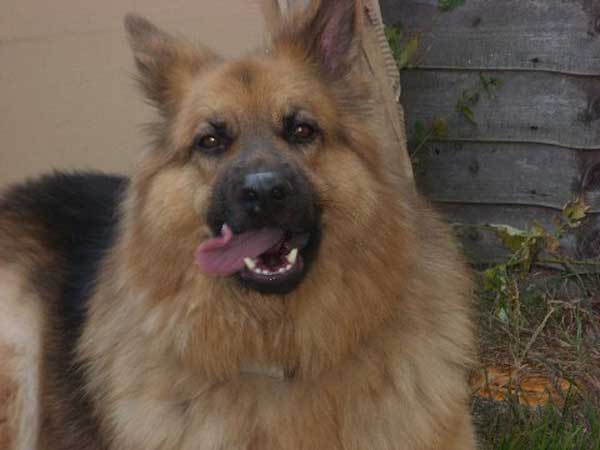 Benji is a 5yr old black and tan long coat male who lives with young children who he adores, the family feel that since the children have come along poor benji is not getting the attention or exercise he needs, he doesnt like cats and hasnt been socialised with other dogs, however when he goes into kennels he doesnt seem bothered by the other dogs, benji has been castrated, Benji needs an experienced GSD owner as he can try and dominate if allowed
Archie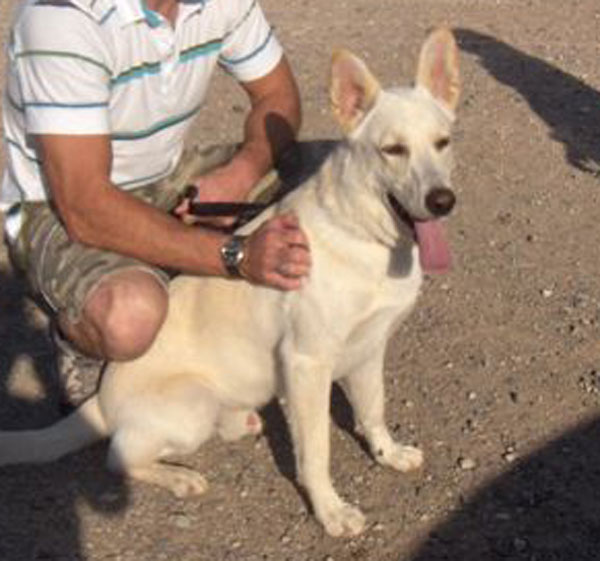 Who ever gets to adopt this young man will be very lucky indeed! He was assessed at a volunteers home where he met a german shepherd, jack russell,cats, chickens and resident cockerel, saw horses from a distance and a 10yr old girl, and it has to be said he wasn't fazed by anything. He is fully vaccinated and microchipped.He is not neutered.He loves having a bath and very good in the car....perhaps not one after the other! A super family dog..... so are you the right family for our Archie?!
Indie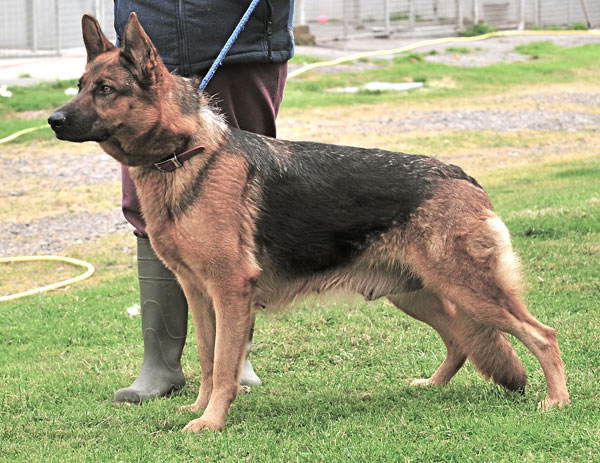 This beautiful girl is Indi who is approx 4 years old. She came from the pound where she was due to be put to sleep. Nice temperament, gorgeous gold and black colour. Stunning eye colour almost orange. Photo doesn't do this lovely girl justice. We are unsure if she has been spayed and we think she may have had puppies
Giddy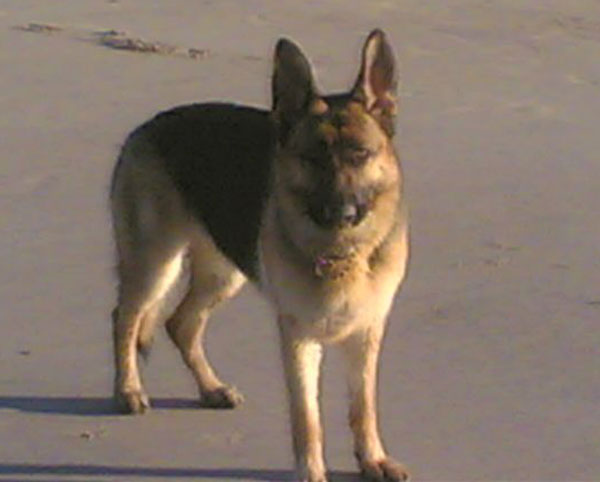 Giddy is a five year old spayed black and tan bitch, she is a very affectionate girl with adults but has never been around children, she doesnt like people running towards her or anyone passing on skateboards, bikes etc so she would probably be better in an adult only home, she gets on with some dogs but doesnt like cats, she is a lovely girl but has to be rehomed because the owners have moved into accommodation where Giddy isnt really allowed to go.
Max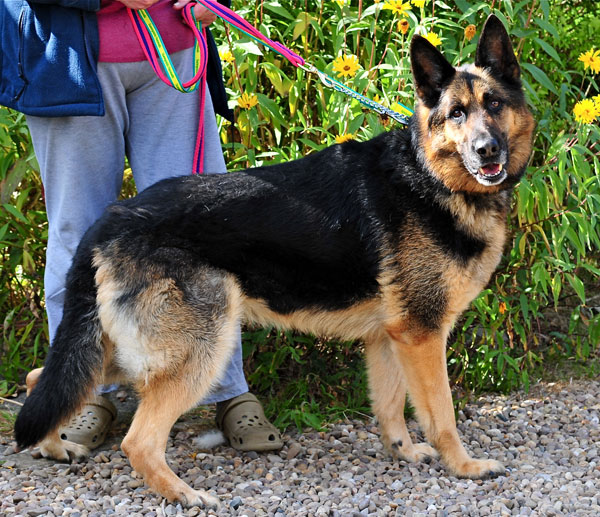 This big black and tan cuddly teddy bear of a dog is 8 years old. He is housetrained and he was good with the children we encountered at the centre and I have been told he is also good with cats, he only gave a couple of woofs at the dogs we encountered and I think he was more 'interested' than aggressive. He is 'in tact' and is very obedient, he performed a lovely sit for me and also gave me his paw. He does pull slightly on the lead but this is nothing that a little training will not cure and I think this is totally due to the fact that he is so stressed in kennels and could do with a lot more exercise than he has been getting. Max has a wonderful soft nature and covered me in kisses when we met, he is definitely the David Niven of the dog world. While trying to take his photo he also decided to sit on my lap. he is an extremely gentle giant. I was told that Max is happy to be left on his own for a few hours and has been very well behaved, he is a favourite of the kennel maids
Sadie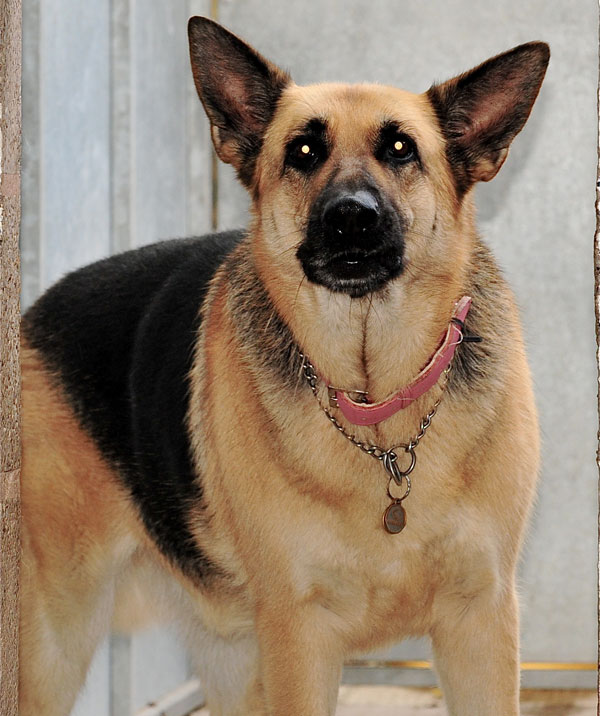 Sadie 5 year old black and tan short coat. Spayed. Was friendly with volunteer travelling but is kennel guarding at the moment. Sadie lived with Woody. Microchip as is Woody. Sadie has lived with 6 cats. Sadie is very wary of strangers.
Tess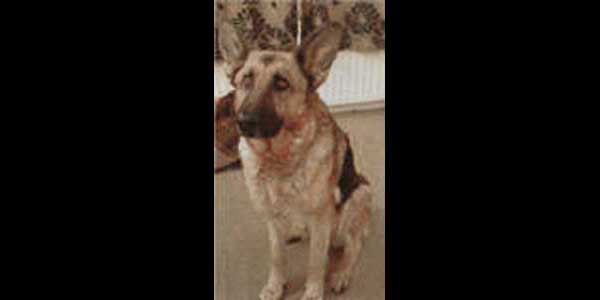 Tess is a very special 6yr old girl, she is a short coated black and Tan. The lady that rescued Tess has got another dog and cant keep her because every few weeks she has a fall out with them. It is believed that Tess has been used as a bait dog in the past and has had her tail amputated at some time in her life, because of the way she has been tormented she can not go in a home with other pets. Even though Tess has had such a bad life she absolutly adores people and just wants to be loved and someone to love. Tess is vaccinated but not microchipped,.
Zack and Zeus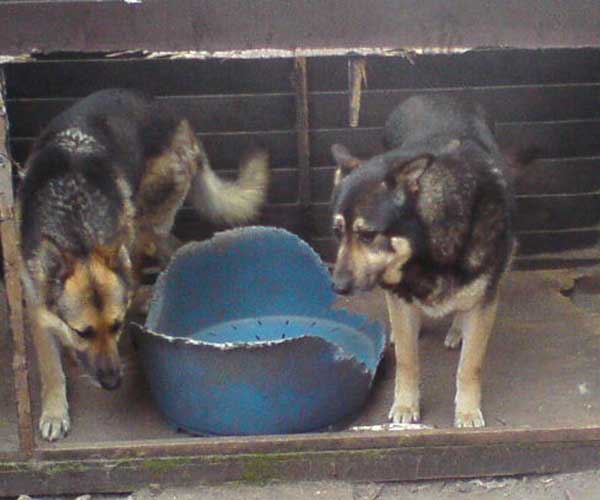 Zac and Zeus are father and son, they are 7 and 4 yrs. old and they are castrated. They are both good with children but do not like cats, neither of these two get on with other dogs. We would prefer that these two went together if possible. They are being rehomed because the owners are having to down size their house and work commitments have changed..
Jerry Lee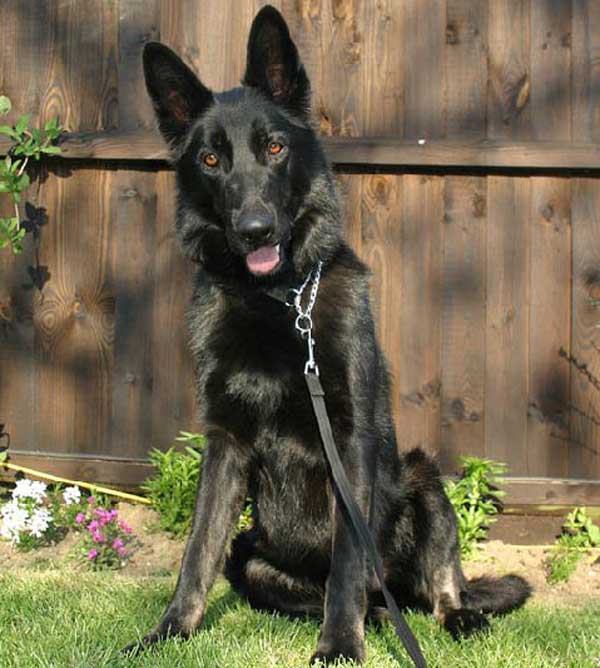 Jerry Lee is a 15 month old castrated boy, who just wants company and love, he wasnt socialised but since being with a foster home he has been introduced to other dogs and been fine but we have discovered he is not good with cats. Jerry Lee is nervous of new people and would be suited to a home with no children, Jerry Lee loves attention once he gets to know you and loves being groomed.
Sam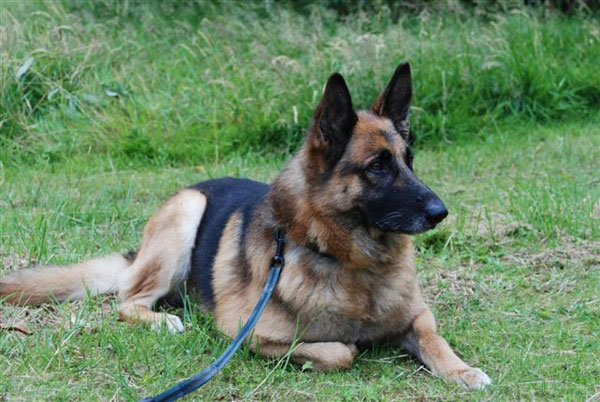 Sammy is a very attractive black and gold short coat, entire male around eight years old. He gets on really well with other dogs particularly the ladies but socialises with all the dogs here and is so patient with the puppies. He is extremely well mannered and polite, totally house trained and loves being fussed and cuddled. Sammy loves being in the car and would even sleep in it if he was allowed!, and last thing at night he is always down the side of the bed, he is a wonderful ladies companion at the moment! However he also loves to have a mooch around the garden and land, He soon alerts us if there are strangers around. Sammy can be very protective, little is known about his history previous to being in foster so a home with vast GSD experience and knowledge would be considered.