More Rescue Dogs that have been rehomed
These are some of the rescue dogs we have rehomed
CJ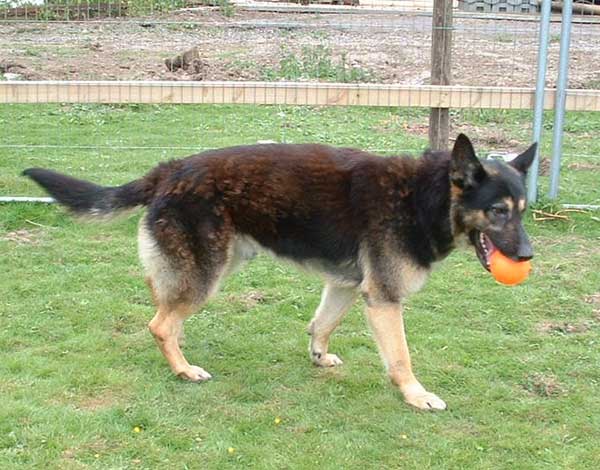 CJ is a lovely boy who is wanting a new family to call his own. He was with his owner's since a pup and has not had any real training. However, this young man is currently being trained and is walking on the lead, and being introduce to many things. He travels lovely in the car and also by train. He LOVES playing fetch and adores water. He knows basic commands. He was living with a very small children without any problems. CJ has had a skin allergy and has some hair loss under his neck and on belly. This does look old and is not something that is current and by no means should put someone off. He is really lovely and craving a new family who will give him all the attention this chap needs. He is a cracking dog.
Tess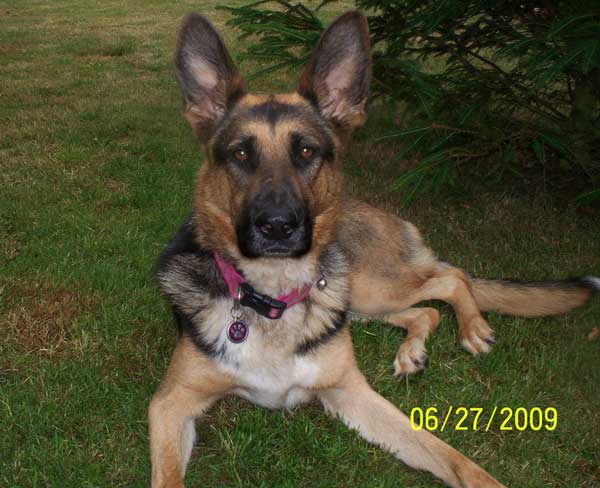 Tess is a 2 yr old black and tan short coated bitch, she has not been spayed, Tess is good with children and cats, she hasnt been off lead with other dogs but she is very calm when she walks past them. she is a very obedient girl who is looking for a new home through no fault of her own.
Heidi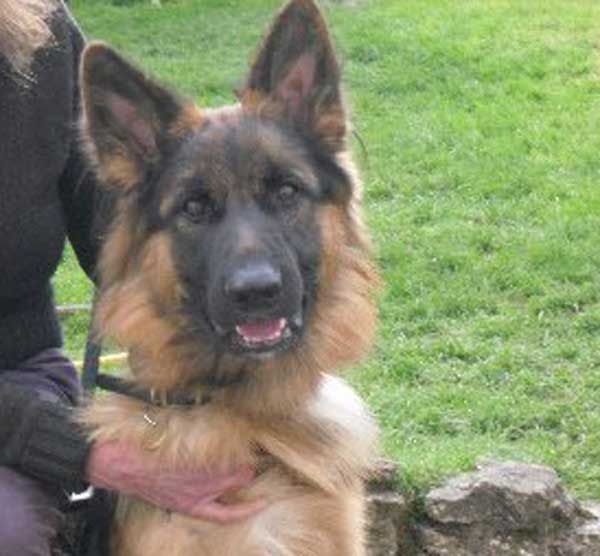 Heidi is a beautiful 1yr old long coated spayed bitch, who is good with young children, heidi has not been socialised with people and for that reason she is quite a nervous dog, she barks and runs when strangers approach her, she is ok with other dogs but unknown about cats, she is vaccinated and chipped, she is looking for a new home because her owner died.
Lady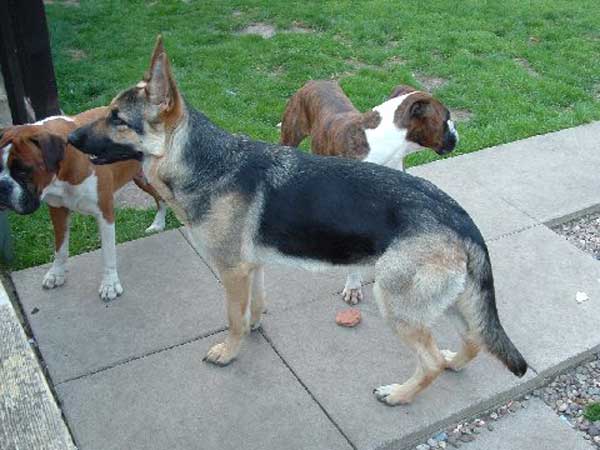 Lady is a wonderful and loving 16month old unspayed bitch that loves everyone, she is good with children, cats and other dogs she is vaccinated, she truly is a lovely natured girl. the owner has sadly decided because of personal reasons it would be better for lady to go to a family that can give her all the love and attention she deserves
Eiger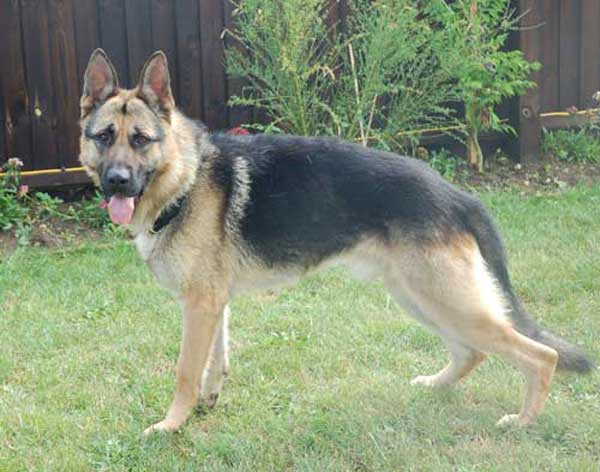 This lovely young GSD was kept tied up in a yard and never allowed in the house as his owners regard dogs as unclean! He ended up in the dog pound and reached his 7 days so was added to the list to be put to sleep. We got him out and he has turned out to be a lovely boy. Eiger was put into a new home a few weeks ago, where the new owners claimed there would be no young children to worry him. They then allowed very young toddlers to maul him, which Eiger was not comforable with. As Eiger was kept in a yard and probably teased by kids, we specifically wanted a home without young kids. It is very sad to think that people would lie about this and put poor Eiger in a situation he was not comfortable with. So thanks to irresponsible owners, once again poor Eiger is looking for a nice new home.
Sasha
Sasha is a lovely bitch with a wonderful temperament, she has been playing lovely with fosterers dog in the garden and has now really chilled out. She doesn't have much name recognition but will sit and give you her paw.Good walking on the lead, too soon as of yet to let her off lead.She has shown no food aggression and is good in the house. Hasn't met any cats yet so no reports on that score.
Cassie and Buster. Buster died in kennels unwanted and unloved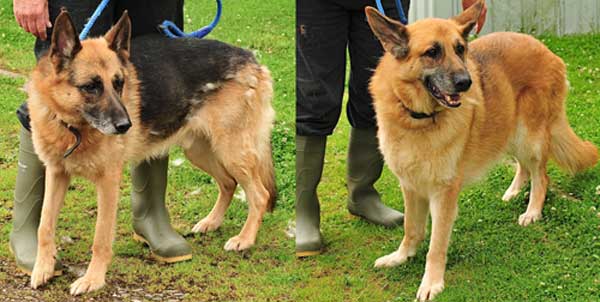 These 2 much loved dogs 8 and 9 years old were signed over to rescue. The owner was heartbroken but he had been made homeless and had no alternative. They are really nice dogs although not much is known about them. We would love them to be able to stay together as they adore each other.
Buddy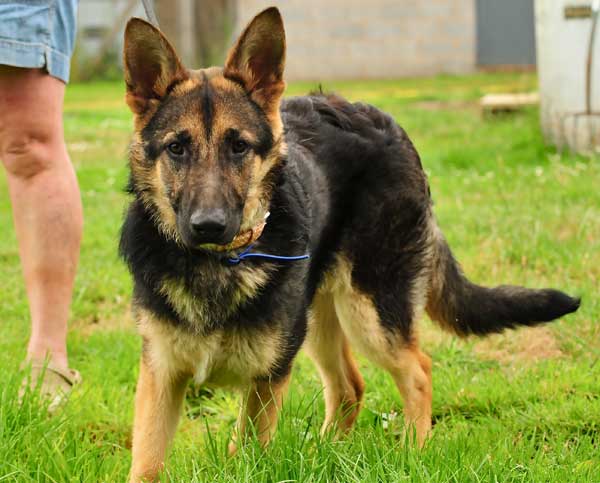 Buddy is black and tan, semi coat. He is a very young dog of about 7 - 10 months old, needs training, very boisterous would not keep still for the camera and kept running around volunteers legs in circles. Seems a very friendly dog, he was a bit wary at first and stayed in his kennel for a couple of days, but is OK now. He is still just a puppy.
Sam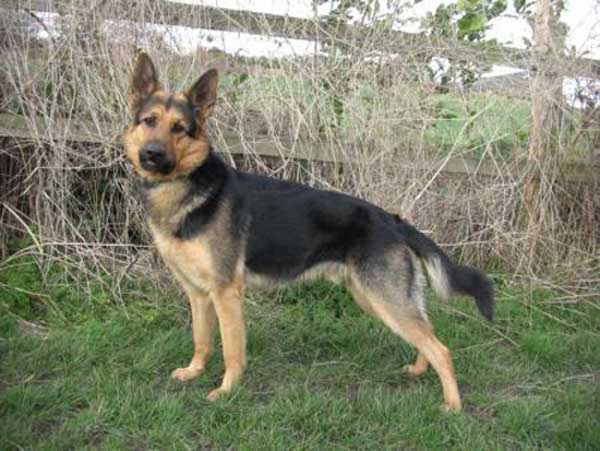 Sam is a male German Shepherd that is approx 2 years old. He is a very friendly Dog & gets on well with other Dog's. Sam was found wandering the Street's & had worn the pad's off his feet resulting in him nearly dragging himself along the floor, He has fully recovered now. Sam is true to form for the German Shepherd breed in that he is an active Dog & would be best in a home that knows the breed.
Todd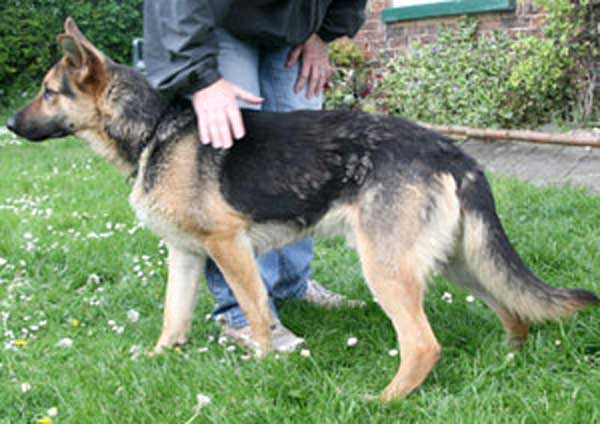 2 years old, black and tan short-coated male, not neutered. Good with all other animals. He's a little wary, but fine with older children and strangers once introduced, though he tends to keep his distance. Food possessive with other males. He is house-trained and reasonably obedient, good on the lead. Probably better rehomed without his sister, Phoenix, as she leads him astray..