More Rescue Dogs that have been rehomed
1 2 3 4 5 6 7 8 9 10 11 12 13 14 15 16 17 18 19 20 21 22 23 24 25 26 27 28 29 30 31
These are some of the rescue dogs we have rehomed
Zac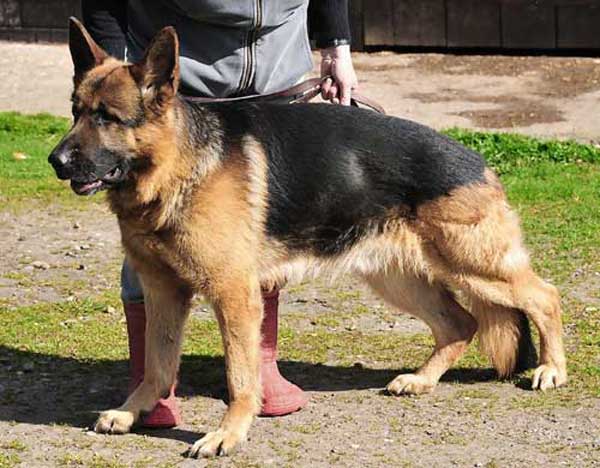 Zac's owner died recently and no one wanted him. B/T Short coat. Entire Male age about 4 - 5. Big Boy Stunning looking. Strong on lead. Jumps up but friendly. Bonds quickly and can be dominant with other dogs, would need perhaps more socialising. Beautiful example of a GSD.
Sheba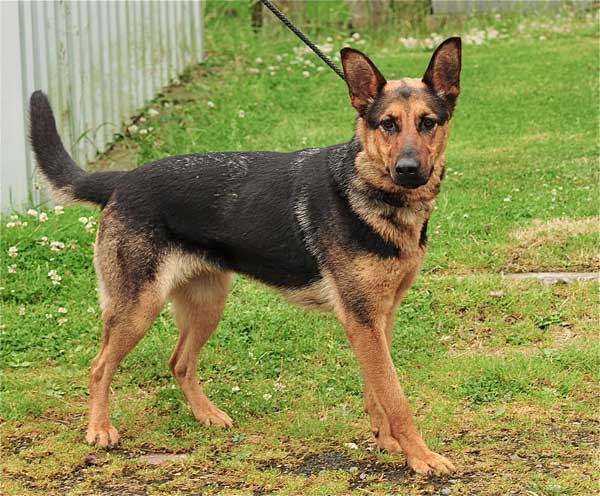 SHEBA - 18 months old black and tan short coat bitch not known if spayed. Quite lively, jumps up, friendly but will bark at the other dogs in the kennels.
Ben - stressed at being in kennels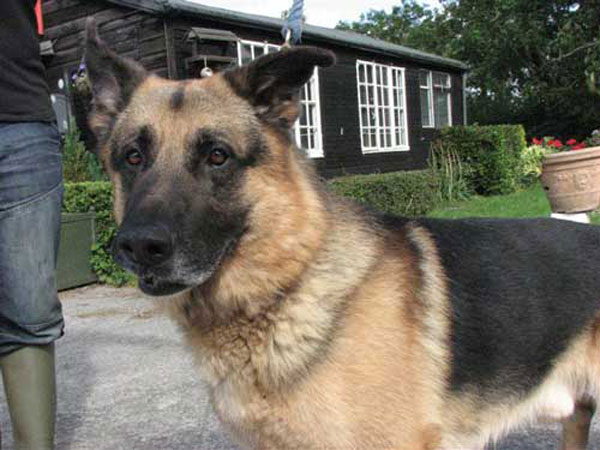 This is Ben who is 6 Yyears old big and handsome, the ears come up from time to time, He is lovely chap no aggression towards people, good with childrens, but no to black Labradors and not known with cats. He loves playing with the ball, will sit and go down no problem. All in all a very good dog to have. He came into the rescue because a drunk decided she wanted to cuddle him, fell on him and he scratched her lip. For that, his owners booked him into the vets to be put to sleep. He is now safe with us. Whoever adopts him, will be a very lucky person indeed.
Jerry Lee - in kennels since Feb and now very depressed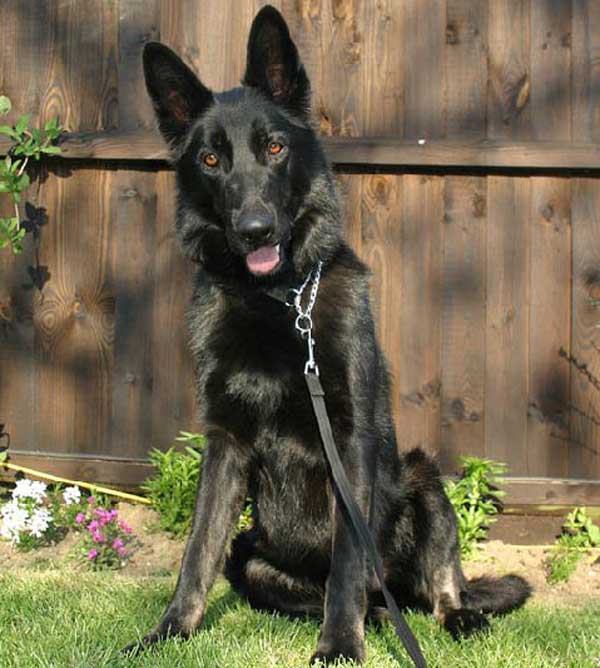 Jerry Lee is a 15 month old castrated boy, who just wants company and love, he wasnt socialised but since being with a foster home he has been introduced to other dogs and been fine but we have discovered he is not good with cats. Jerry Lee is nervous of new people and would be suited to a home with no children, Jerry Lee loves attention once he gets to know you and loves being groomed. He is now in kennels and very depressed.
Connor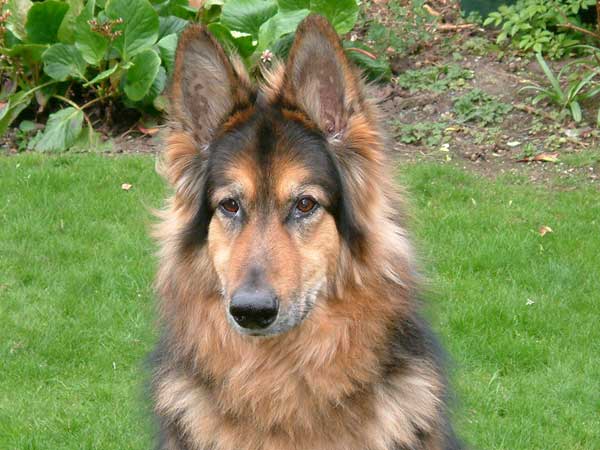 Connor is a very bouncy, confident, large dog who will dominate if given the chance. He is not aggressive but will play fight of allowed to. He requires a home with no other pets, no young children and owners who are confident with having GSDs. He knows all the basic commands but will need extra discipline if allowed off the lead as he rushes in to greet other dogs..
Gabe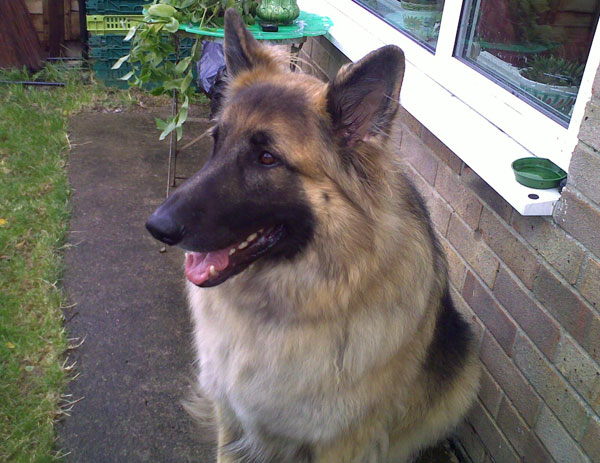 Gabriel known as Gabe is a huge 63 kg long coated boy, he's 4 years old and is neutered and chipped. Gabe wasn't too sure of our volunteer initially just a bit over protective of his own environment but not aggressive, he soon came up for lots of fuss and attention. Gabe had lived with cats and various small dogs but does come across aggressive with other dogs whilst on the lead, but once off he's fine and in the past he has been used to being taken out with large groups of dogs. He is strong on the lead with his elderly owner but with someone more able this will be easily corrected. Because Gabe has such a long coat he needs to go to someone who will be prepared to keep him in tip top condition and enjoys grooming, he has often gone to groomers on a regular basis. Gabe has never really mixed with or lived with young children, and because of his size we will only let him go to a home where the children are adults and someone with alot of space. He is only used to short car journeys but this could easily built up gradually. Gabe is being rehomed due to his owner not being able to walk him and give him what he needs, he truly is a gentle giant and would make a fabulous companion. .
Harvey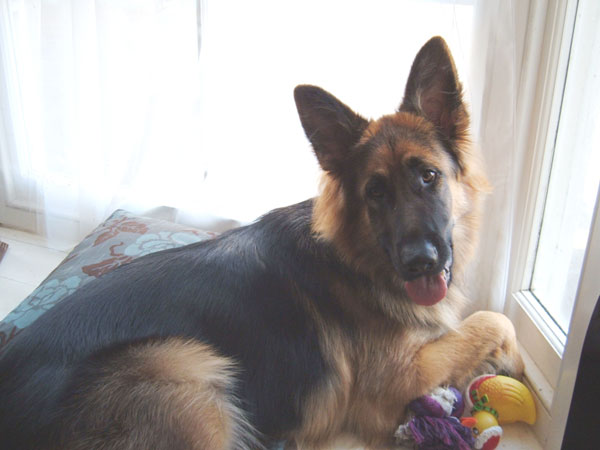 PLEASE DO NOT ENQUIRE ABOUT HARVEY UNLESS YOU HAVE COMPLETED AN ADOPTION FORM, AND HAVE BEEN HOME CHECKED AND PASSED.
Harvey is a gorgeous 15 month old Black and Tan long coated neutered male, his jabs are up to date, he is also chipped Harvey is so so friendly but very very bouncy he has only been with his current owners for 4 months who got him from Battersea Dogs Home. Harvey was so excited to meet our volunteer, there was no suspicion, aggression or anything. He jumped up and mouthed slightly but no aggression , no pressure. Harvey was quite happy to be handled and touched all over, teeth ears, body etc. he would let anyone do it., he is very excitable wants to play a lot, he even pinched the volunteers handbag twice. Harvey is extremely strong on the lead and will need someone who is willing to put in the training, he is just a very large puppy who needs to be set boundaries.He is far too boisterous for children and we would only place him into a calm all adult home, which will hopefully imprint some rules. Harvey is very wary of small dogs, but will pull on the lead to get to other dogs, he just wants to play but because of his size and power this does put a lot of other dog owners off, we would consider placing him into a home with a bitch of similar size but a bit older who would teach him how to behave around other dogs. He doesn't really have any recall so this is something again that will need to be worked with, he can be left for a few hours each day, travels quite well can sometimes get car sick after a couple of hours but this is improving. he will need to go someone who is prepared to give him the time not spoil him and with training they will then end up with a wonderful dog. Harvey does not like cats.
Dinas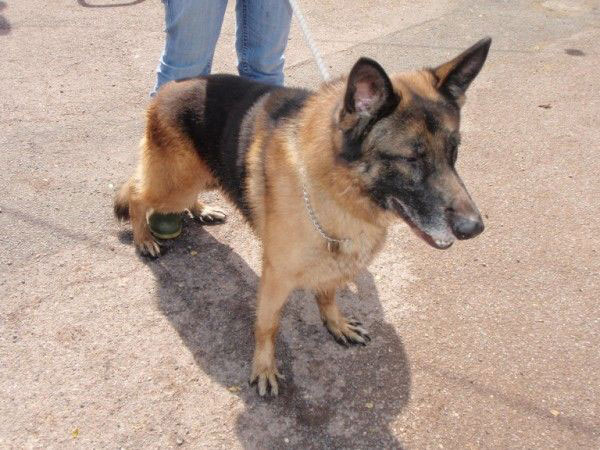 Dinas is a large older male GSD. He is quite a big strong dog but is ok when you show him who is boss. He does sometimes grab the lead but will drop it when he sees that this is not the game he should be playing!.
Tyson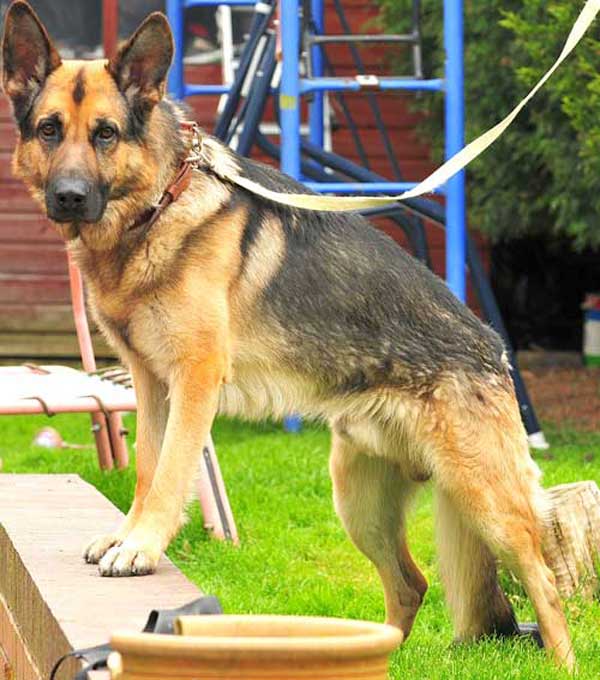 Tyson is a dog that has had training, but is protective of his family and surroundings. Our volunteer feels this has been made worse by owner because she is nervous of how the dog will react to people visiting the home and she feels the dog is picking up on this. Put with an owner who will make the dog realise that he does not have to protect his owner and that he is not pack leader she thinks he will be a good dog. Good looking dog, still young to learn, and is a very active dog. He will need somewhere with a good secure high fenced garden, as he can jump high, he likes to jump up after birds and flies. He lives with a Jack Russell .
Harry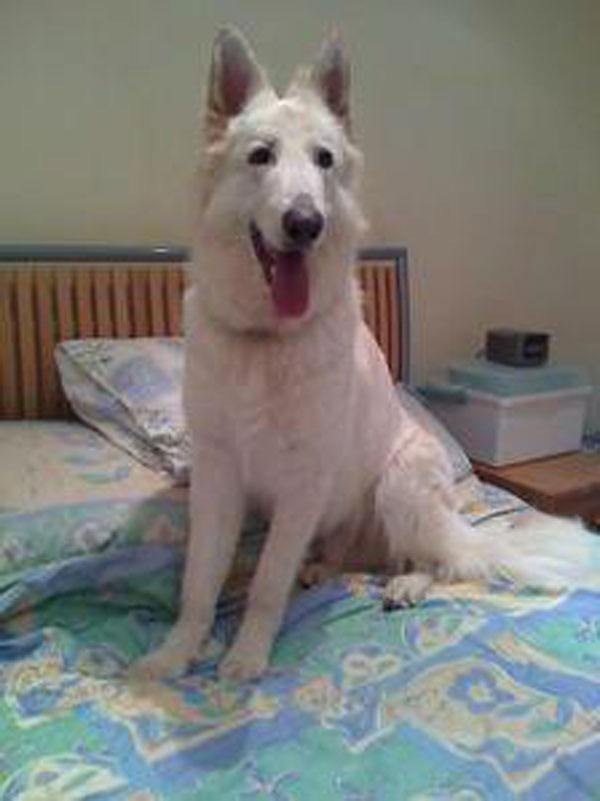 This beautiful semi long coated 8mth boy has not had the best start in life. Harry as a puppy was homed with another dog who decided to treat him like a toy and kept attacking him. Even though he submitted the other dog did not stop this habit resulting in Harry getting bitten on a regular basis. Now in foster care with another dog Harry started off very shy and wanting to be left alone but after a couple of hours allowed the children to feed him and cuddle him. He loves playing with them and the dog toys but is still nervous around their other dog. Harry needs a home where he can be given time to settle and then slowly socialised with other dogs as he has no confidence when greeting them only submissive actions as he is frightened on what they will do. He has been to puppy classes but will need further training due to his nervousness. Once in his permanent home and given time to settle he will be a good loving big family dog.
Ted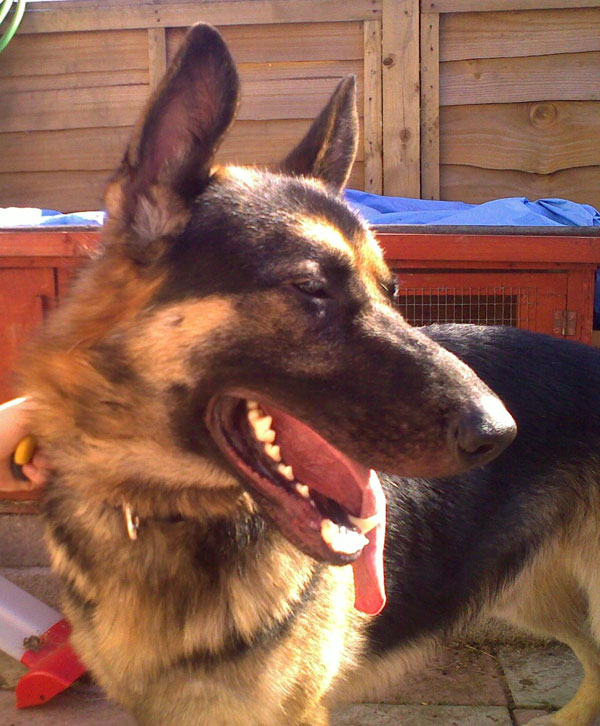 Ted in a 2 year old entire Black and Tan shorted coat dog, who is up to date with his vaccinations. Ted has only been in his current home for a weeks as his past owner was moving house couldn't take the him with them. He has a fabulous temperament and currently lives with young children but is very bouncy and will jump up to say hello and has a lot of energy so for this reason we would only place Ted into a home with older children.He does lives with another dog but they don't get on so he would need to be the only dog. He isn't too bad on the lead, but will bark at other dogs but with time and training this is easily corrected. He doesn't like cats or small furries. In the right home and with some time and patience Ted will make a fabulous dog, he has already had 2 homes in his short life so he now needs some stability.
Tara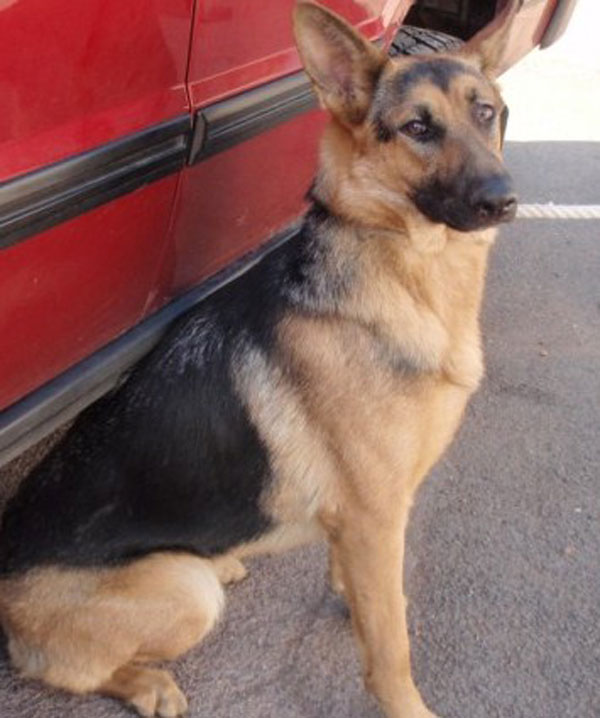 Tara is a lovely black and tan short coated 9 month old bitch, she is still waiting to have her first season. She was dumped in the garden of her old owner who cared for her and raised her, Tara is being rehomed because she has grown too big and her owners have found it difficult to cope with her, she also recently has been fighting with the a resident bitch so for this reason we would like Tara to go to a home where she is the only dog, and can get all the attention, training and socialising she requires, she has a very sweet and gentle nature. She is good with children but we would only place her with older children as she is still so young and quite lively. Her old home was very rural and Tara was never taught to walk on a lead therefore we would prefer Tara to go to someone with a lot of space as this is what she is used to, saying that with training classes this could easily be taught. Tara is currently in kennels and is still only a baby she desperately needs a new loving home.
Chels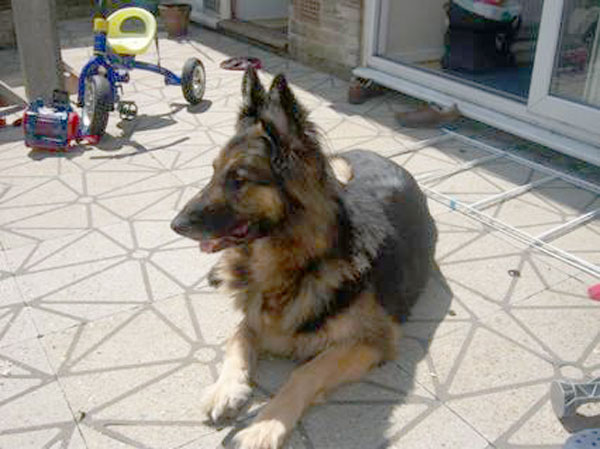 Chels is an 8 year old semi coated bitch. She currently lives with children and is very friendly to people coming into the house. She is used to traveling and is house trained. Chels currently lives with a Springer Spaniel and Mastiff and although she welcomes family and friend's dogs into the home she is not good with dogs when outside the home, particularly small dogs. Chels does pull on the lead but the current owner uses a harness and she is fine. Chels would make a great family dog; however, the socialization with other dogs is something that will need to be worked on.
Badger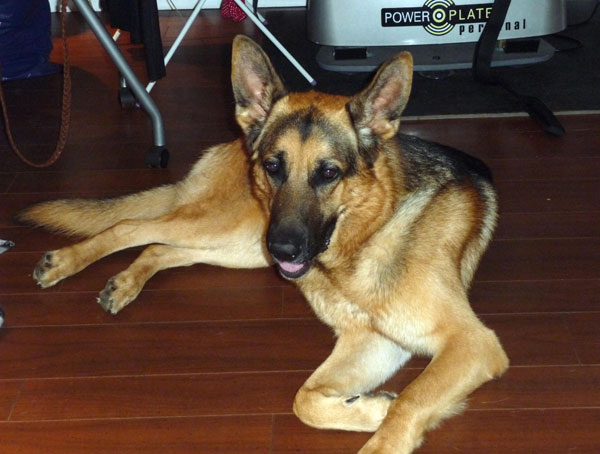 I loved this dog – what a gorgeous boy. Badger was so friendly when I arrived and makes you realize why we love this breed, he didn't know me but allowed me to play and cuddle him, rolling around upside down. Badger is a 3 year old, short coated Black & Tan entire boy. He currently lives with a female Border Collie and two cats. I saw his interaction with one of the cats and trust me even I wanted to bash this cat; he was so well behaved and restrained. He is fully housetrained and travels well in the car. Badger also lives with two young children aged 6 and 8. He really is the perfect accessory to any household that wants a very well balanced, easy dog. He is ok walking on a lead, but as he lived on a farm he was mostly walking by your side without. He is up for rehoming as his currently owner has separated, moved accommodation and is working extending hours.
Charlie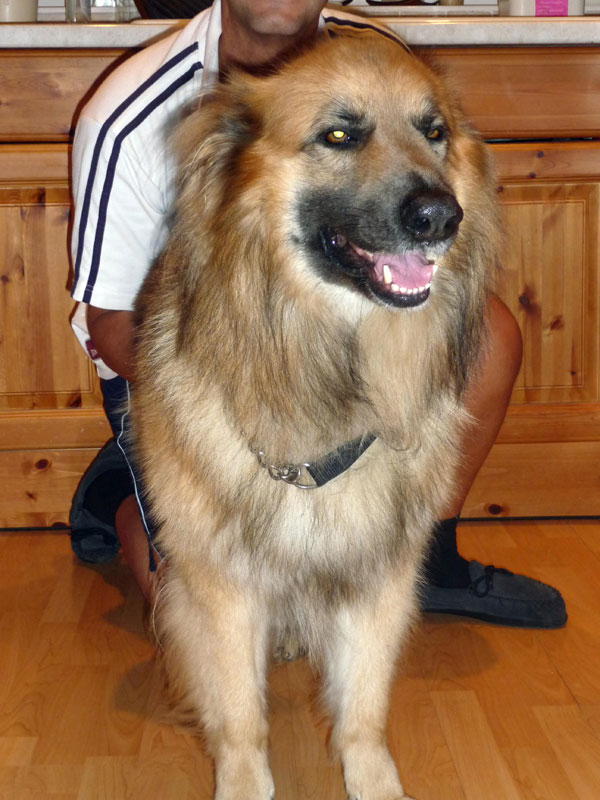 This is Charlie and what a looker he is - he also has the most amazing ears!! Charlie currently lives with three young children and loves family life. He gets on with other dogs other but does have a dislike of Staffs. He was very friendly when assessed and just kept leaping around wanting to go for a walk. Out on the lead Charlie does pull but this is something that can be worked on. He is fully vaccinated, wormed and micro chipped. He is a gorgeous dog who will give you unlimited pleasure, he wants nothing more than to be part of everything that you are doing. Charlie is being re homed due to the current owner's work commitments.