More Rescue Dogs that have been rehomed
1 2 3 4 5 6 7 8 9 10 11 12 13 14 15 16 17 18 19 20 21 22 23 24 25 26 27 28 29 30 31
These are some of the rescue dogs we have rehomed
Charlie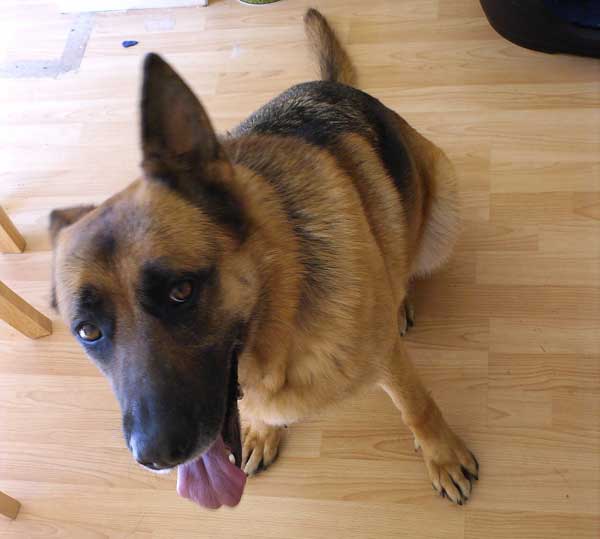 This is 5 yr old Charlotte,(Charlie), a spayed bitch, full vaccinated, black & gold. Charlie is living with children from 6 months upwards, so good with children. She is fine with other dogs but can be dominant with smaller dogs. Charlie really doesn't like cats. Charlie is housetrained. Needs lead training. Loves to play ball, jumps up when excited, but does calm down when told to. She has never shown any aggression to dogs or people. Charlie can open doors! A loyal & friendly girl. Owners have a new baby so cant give Charlie the exercise & attention she needs.
Dino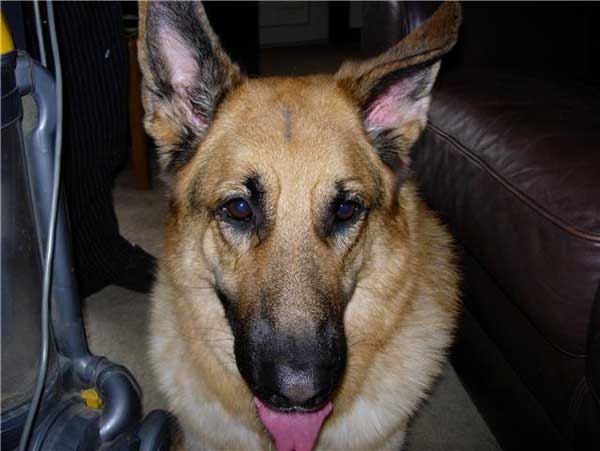 Dino currently lives with 2 other dogs and is not aggressive in pack. No health issues, as you can see one ear is floppy a lot of the time which looks well cute as he's got a MASSIVE HEAD, he's a real Scooby doo and wallops along when running with his big hooves !Reason for rehoming is that he lives in a small Close and is just a bit over protective. He was fine with volunteer when he got in the house, a big baby. The owners are very upset but can't chance any more incidents in a small close nit close. He's not used to kids and owners think he was badly treated/ passed around homes by former owners. He's been in his current home nearly 2 years. He's house trained and we think he will make someone a lovely companion. Volunteer thought he was just a big baby, but he's a shep so he needs his space and he's protective. One funny thing is he adores the dyson, he gets all excited and jumps around the vacuum stopping the other dogs from biting it, it's really funny and has to be seen. Dino told our volunteer his new home has to have a Dyson there - his favourite !
Gracie 22mths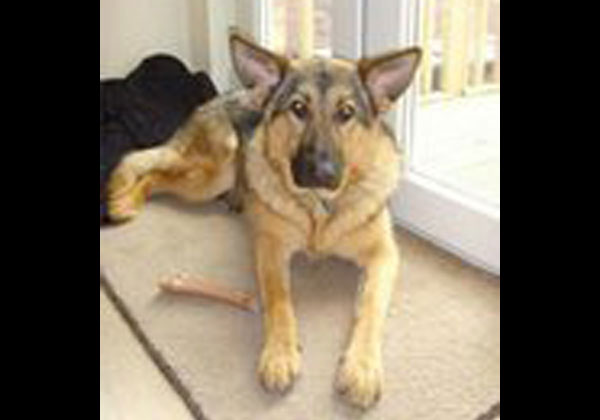 This is 22 month old Gracie, a spayed bitch. A really nice girl, gets on well with other dogs, not sure on cats. Vacc'd, microchipped. Is fascinated by children! Needs a new home due to owners circumstances changing.
Shadow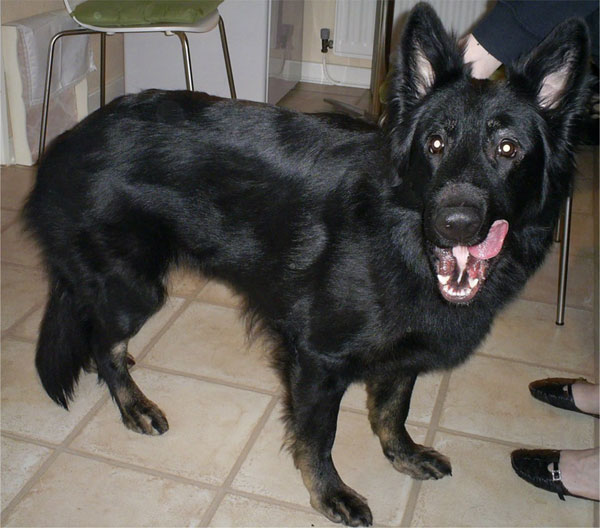 Shadow is nearly 2 years old, she is spayed and microchippd. She is very friendly with people and children and lives with a male GSD. When out she will run over to dogs barking but wants to play with them. She is absolutely stunning to look at but suffers from separation anxiety and is destructive when left alone.
Diesel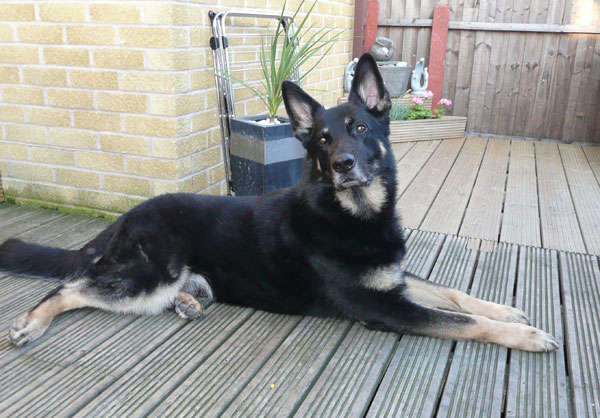 Diesel is a 4 year old entire dog. He is a nice big friendly dog but easily gets over excited and boisterous. He does jump up and doesn't show any aggression. He does not like small children, lives with a teenager and he is Ok with him. Ok with other dogs. Needs an experienced home to cope with his lively personality.
Ben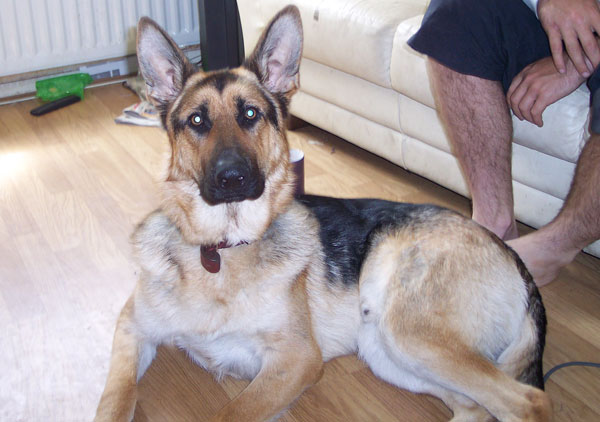 He is 14 months old Black & Tan short coated castrated male.His booster is due we are hoping to have it done.This young dog is being re homed due to work committment. He Lives with his young owner and his mam, he gets visit's from grand children from the ages of 2 - 7yrs and is ok will all family members. He lives with a cat but the owner says he doesn't like the cat, he is ok with other dogs. He is ok with people but does growl at strangers, think he may just need a firm hand. He pulls on the lead so again needs some training. Should make a nice dog if given the correct guidance.
Saisha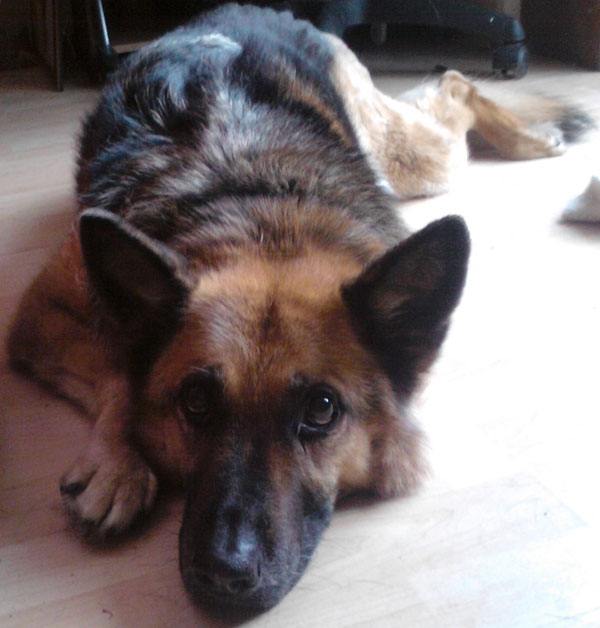 Saisha is a short haired but thick coat, black and tan female - speyed, fully vaccinated including kennel cough, due again in dec 2009. Pulls a bit on the lead, has a good recall off lead, currently living with children from 5mths to 12yrs, 1 other adult dog, a puppy and several cats including kittens and is not a prblem with any of them. She urgently needs a new home due to changing circumstances.
Bandit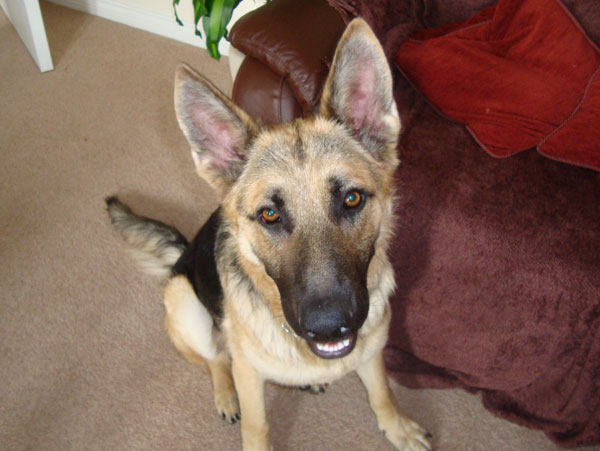 Bandit is 9 month old dog, he is an entire male, he gets on with other dogs of all sizes seems ok with cats but will chase if they run, Bandit is good with children but obviously because of his age he is very boisterous in his play and could knock a young child over, This lad has not had the best starts, he was rescued by a lady when Bandit and another dog were found abandoned when the company that owned them moved and left them behind, they had been left for 4 weeks with people throwing food etc for them but this lady got them out, she was going to keep them both but she works and didn't feel this was fair on such a young dog, He has been well socialised since being with her and is very friendly but extremly curious with everything and character in abundence
Bruno - rejected and new owner threatened to put to sleep.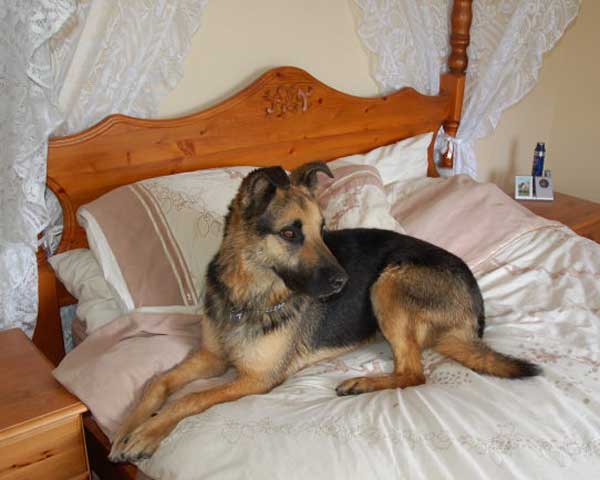 Yes that really is Bruno lying on a 4 poster bed!! Not much was known about Bruno, other than he had been used as a guard dog but the company had been bought out and they were now going to use 24 hr CCTV instead. So Bruno wasn't needed anymore, if we couldn't find him somewhere quickly he would be put to sleep Bruno is a three yr old entire male, who had lived in a car in an enclosure and been used to guard but he is a very loving boy who loves his cuddles and a game of ball but makes all the right noises when needed. He had mixed with the workers other dogs and seemed fine, but he wass not used to cats or children or normal family life. Of course we wanted Bruno to have the chance of a good life after what he had been through so he was picked up by a volunteer and taken to her home. Bruno was allowed in the house and turned out to be a perfect house guest. No whinging, no howling, no accidents, and nothing destroyed he just curled up and went to sleep!! His new owner has rejected him and threatened to have him put to sleep because he grabs the lead when he is excited about going for a walk!!!
Kye - huge big dog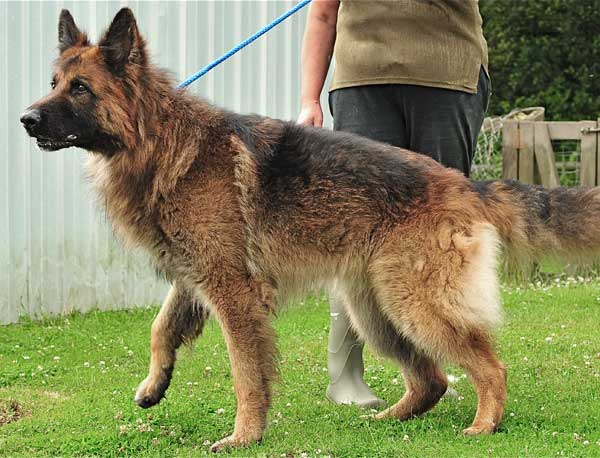 Kye is a massive big bear of a dog. Entire, 7 years old, supposedly good with children and female dogs. No cats. Pulls on lead. Travels well. Came out of a home because the Landlord would not allow owners have him..