More Rescue Dogs that have been rehomed
These are some of the rescue dogs we have rehomed
Max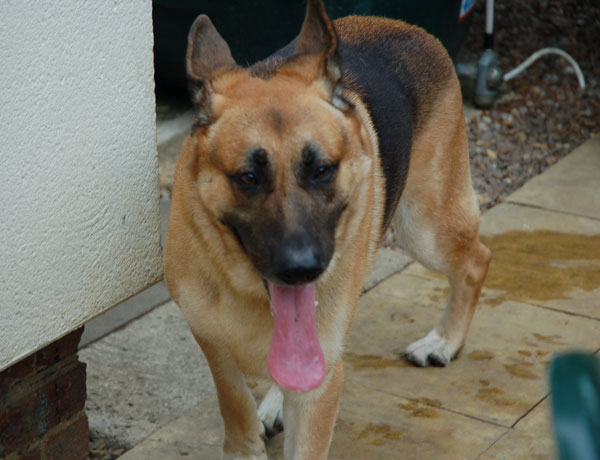 Max is a three year old black and tan short coated entire male who has never socialised with other dogs so would be better as an only dog, he is great with children and a very friendly boy to people, he does chase cats, he is good on the lead. he loves travelling in the car. he is vaccinated but not chipped
Sabar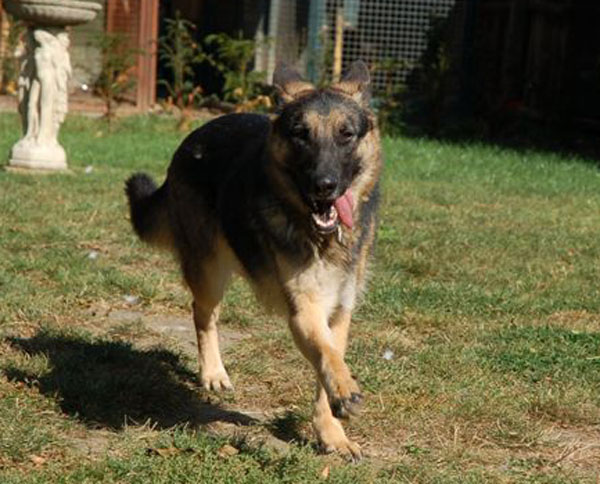 Sabar is a very sweet friendly girl of 22 months of age, she is good with other dogs although she feels quite intimidated by them when she first meets them, she absolutly adores children and has lived with an 8 yr old who she followed everywhere. Dont know about cats but she is ok with chickens! She adores people and just wants to be with them but she has been left for long periods of time and started chewing so she was put in a kennel six months ago because the owners couldnt handle it, no signs of chewing in the foster home so far. she isnt vaccinated but is chipped
Molly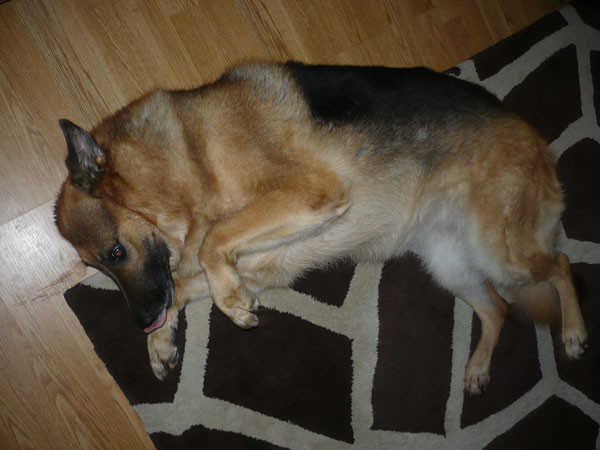 Molly is a beautiful 7 year old Black and Tan GSD, Molly is a little overweight, the owner says the children are always giving her food. Molly's claws are extremely long. The owner admits that Molly is not walked very often. Molly has not been ill treated at all and is a very contented dog, who did not bark when our volunteer entered the premises and came straight over to give her a good old lick. She was very at ease with volunteer inspecting her eyes, ears and tummy. Molly has previously lived with a cat and has been great with a friends' Husky and other dogs. The children in the house are 1 x 3 yrs old and 1 x 18 months old. Volunteer observed Molly around the children and she was very gentle indeed. Molly has been spayed. This is a really smashing old girl, she wouldnt be suitable with someone who wanted a fast and racey dog, she really just likes to plod around. Molly is as gentle as a dog could be and in fact rolled over submissively to have a tummy tickle. I would have no hesitation in suggesting she be placed with perhaps a family who have grandchildren but not one with their own young children as she is not a rough and tumble kind of dog. The only slight health problems are that she occasionally has a sore ear, this has been treated topically.
Simba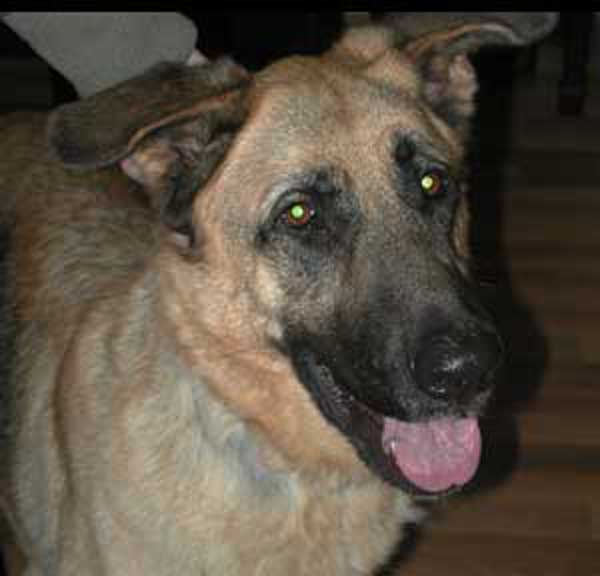 SIMBA a 3 year old black and tan short coated castrated male. He is a big bouncy dog who at first jumped up at volunteer but then just went and lay down quietly. Does get ear infections and has a bit of arthritis in his elbows which doesn't seem to bother him at all. Would be better with older children, don't know what he's like with cats. He has the potential to be a lovely family pet he is just a big softy who wants an easy life. he will need a strong handler, both mentall and physically, he did not like the canni collar and fought it for most of the walk.
Bonnie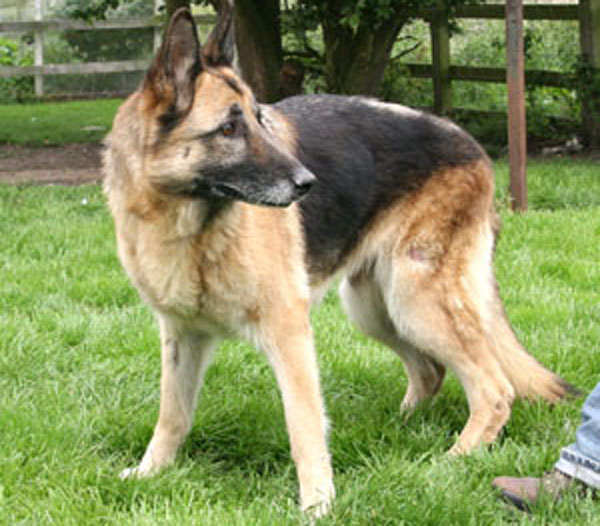 This lady came to us from the pound she was due to be put to sleep When she arrived she had a large sore on her back that has cleared now just needs the hair to re grow, she also had a large mammary tumour which had been left this must have been painful as she made it bleed this has been removed and she has a clean bill of health. Bonnie is an absolute 'sweetie'. She is a quiet, placid dog, who gets on well with other dogs, cats and other animals. Fine with children and very clean in the house. Not known if she is spayed. She has been Vaccinated, wormed and flea-treated. She is very affectionate and loves attention. She will make a perfect companion.
Tess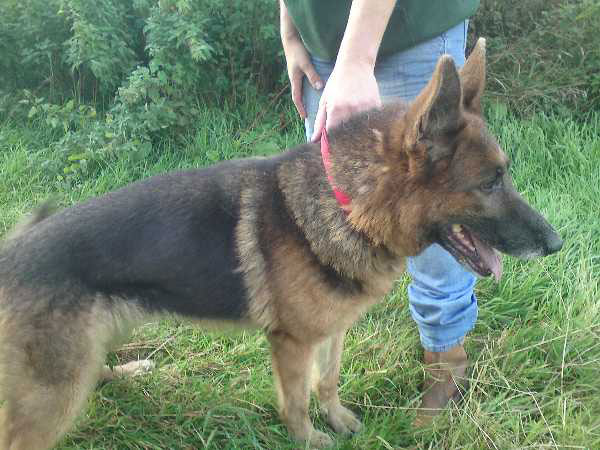 Tess is an adorable girl we think she is about 5 years old, great with people, good with other dogs and seems to be Ok with cats. She is very obedient and has excellent recall. Will make somebody a really lovely companion.
Sasha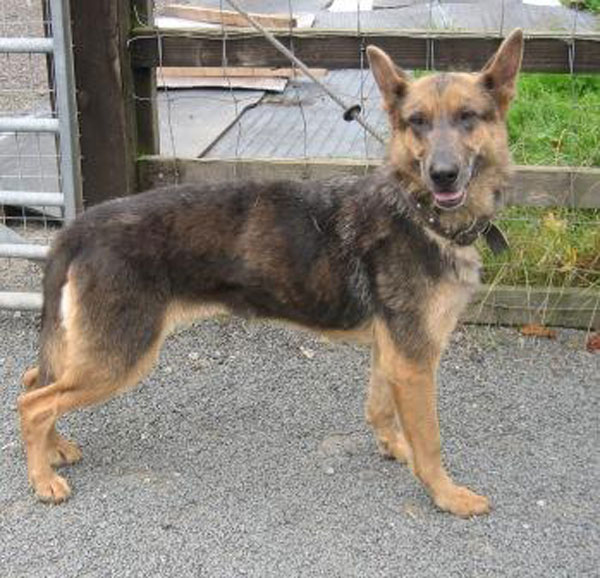 Sasha is GSD of about 8 years of age. She first came to rescue 6 years ago from an allotment where she was tied up 24/7. She was re-homed & found that she didn't settle into a house- she loves it out side. The person who adopted her 6 years ago made her a lovely large home from an outhouse with a large run attached. Sasha is not a guard dog. She went for long walks with the family & the son took her to work with him. She is very friendly & likes other dogs- she loves to play with footballs!! Unfortunately due to ill health they can no longer care for Sasha & she has come back into rescue.
Lucy
LUCY a 3 year old black and tan short coated bitch, not spayed. She has EPI and is on enzyme treatment. She is thin and loses weight easily. She barks at other dogs and will pull on the lead if she sees another dog. She has no lead control but when the volunteer put her on a canni collar she settled down quickly and walked beautifully. She is fantastic with the 2 year old boy she lives with and let him pull her about without a grumble. Lucy is highly intelligent and would make a great family pet for people with children and an understanding of her condition..
Booza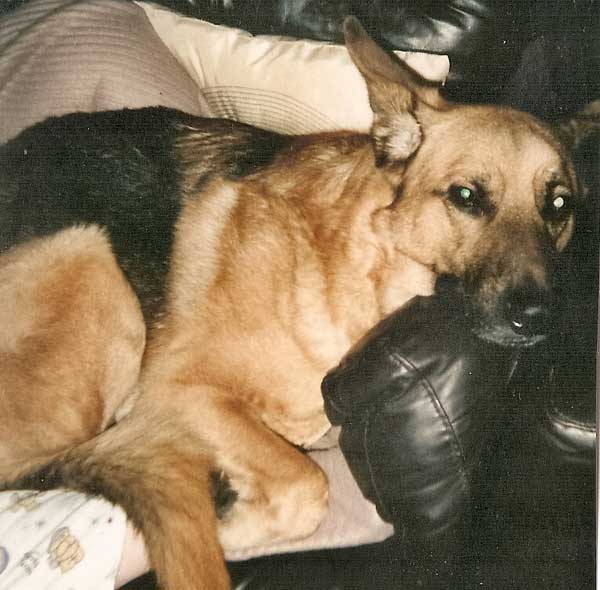 Booza is a 3 years old entire male. He is a short coated, black and gold dog. He needs some lead training and his recall is not good. He is good with older children Not sure what he would be like with other dogs or cats. A loving dog who needs a new home due to changing circumstances.
Zak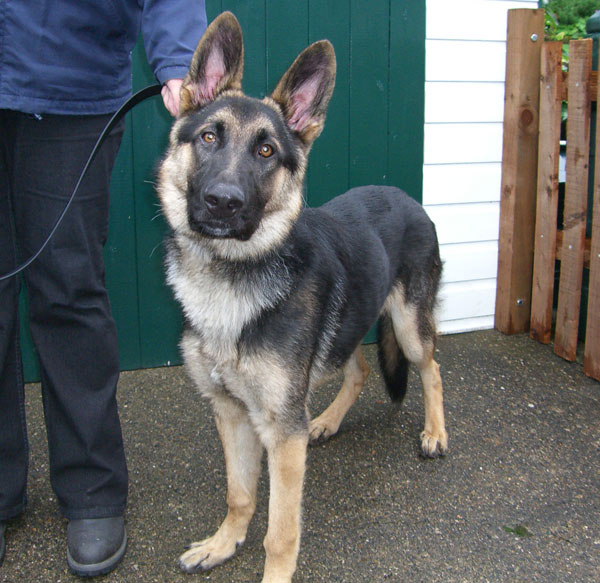 Zak is approx. 6 months old . He is a lovely looking dog, Friendly with people, we don't know what he's like with kids as he has come from the pound. Seems good with other dogs not sure about cats. He is in good condition but a bit underweight. We have been told that he is allergic to chicken. Not neutered. Likes to play with toys and footballs, got loads of energy so will need an energetic owner
Shay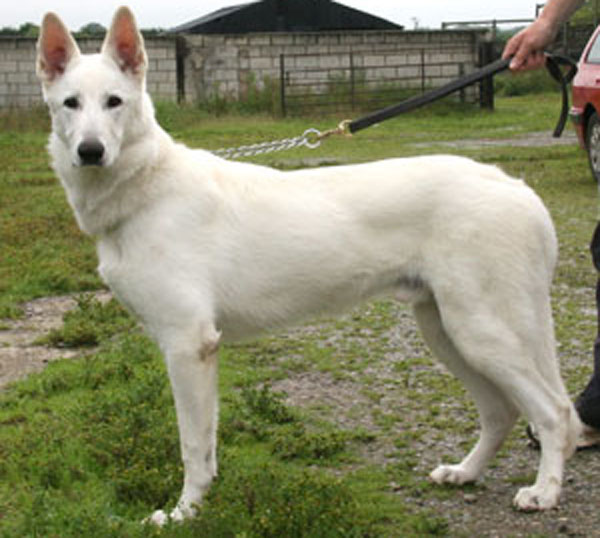 Still a gangly youngster at 10 months, Shay is a very striking dog. He is snow-white and even has a black nose and lips (most whites have brown). He is a strong lad, but responds immediately to firm management and will walk quietly. He is friendly, good with other dogs and cats, normally quiet, but can become excitable if somebody 'winds him up', because of which we recommend that he is not re homed with younger children. Micro chipped and vaccinated, not yet neutered. With continued training he will make a brilliant dog.
Zeus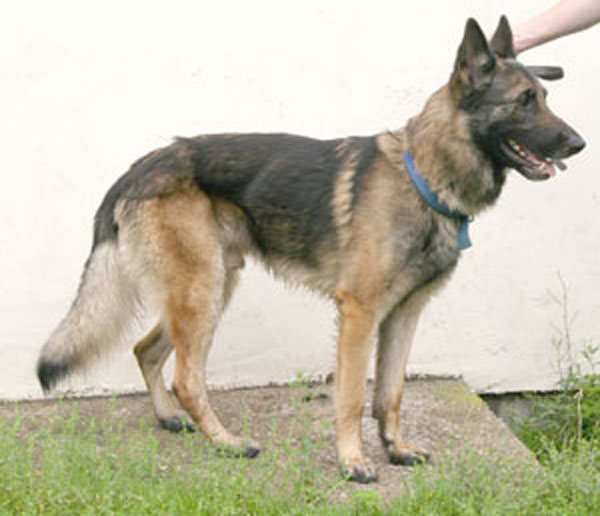 Zeus came to us because he was protective of his owner. Since receiving training, he now accepts people without problems and has become a well adjusted boy. Once he knows someone, he is very affectionate. OK with other dogs and cats. Vaccinated, wormed and flea-treated. Given his background, it would be safer to avoid re homing him with small children.