More Rescue Dogs that have been rehomed
1 2 3 4 5 6 7 8 9 10 11 12 13 14 15 16 17 18 19 20 21 22 23 24 25 26 27 28 29 30 31
These are some of the rescue dogs we have rehomed
Krysta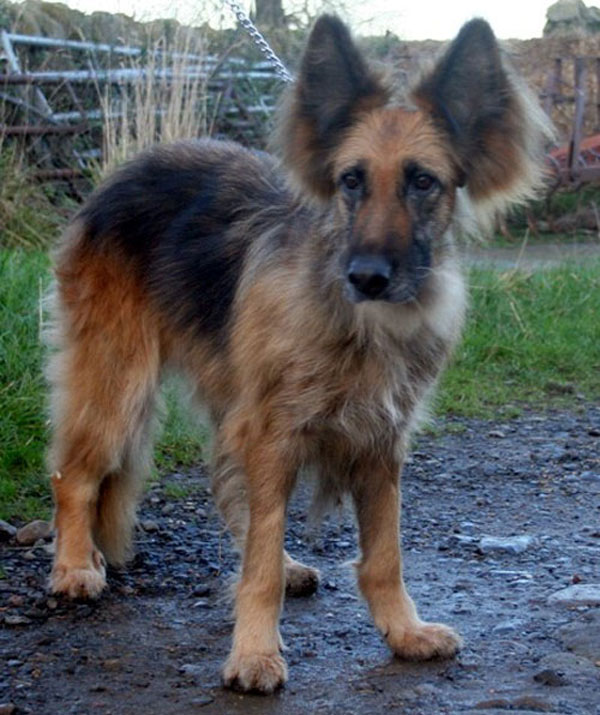 Krysta enjoyed a new home for a few days but unbelievably she was returned because she went for the vet!! She urgently needs a home that understands the breed and that Krysta has clearly had an awful life up to now. She was found wandering and had obviously been tethered for a long time as the skin on her neck was infected and she had lost the hair on her neck and shoulders. Treatment has cleared up the problem and her hair is regrowing. When found she was extremely stressed, but since going into our kennels she has 'chilled out' and now loves to play with her doggie friends. Very thin, but now gaining weight. She has become friendly and affectionate and desperately needs a loving home. Vaccinated, wormed and flea-treated; spaying not known. KRYSTA will need an experienced owner who will help her overcome her and get over her awful past. If you think you can offer a good home to this lovely boy
Max - GSD-Inuit cross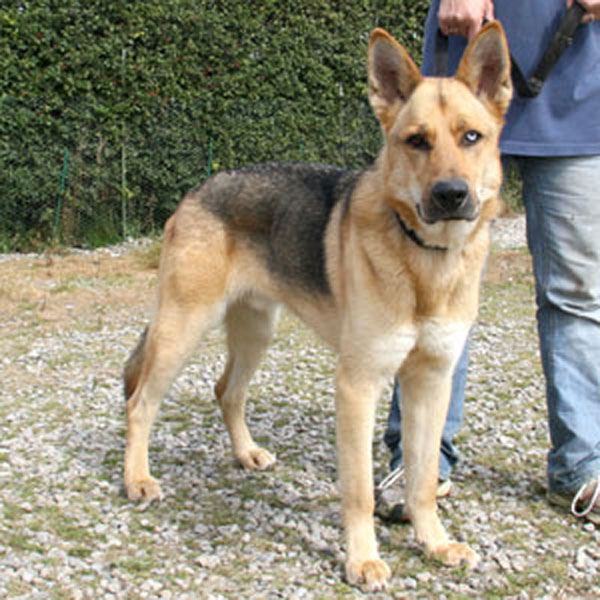 Max is 11mths old GSD/Inuit.He is tall strong, black and gold and will need a firm fair handler. He loves being stroked likes a tummy rub.He is strong on lead and didn't seem to know basic commands. His owner took him to the pound because he couldn't handle him. He has lived with 4 young children but is too big and boisterous So we feel that Max maybe best in an adult home. He is entire and has had first Vacs.He supposedly prefers men to women. We have not noticed this in fact at the kennel where Max is, it is a lady handler who is caring for our dogs. His previous owners haven't shown him any boundaries This is why we feel he will need a firm but fair owner who will teach Max how to behave once he has learnt he will make a lovely loyal pet. .
Abby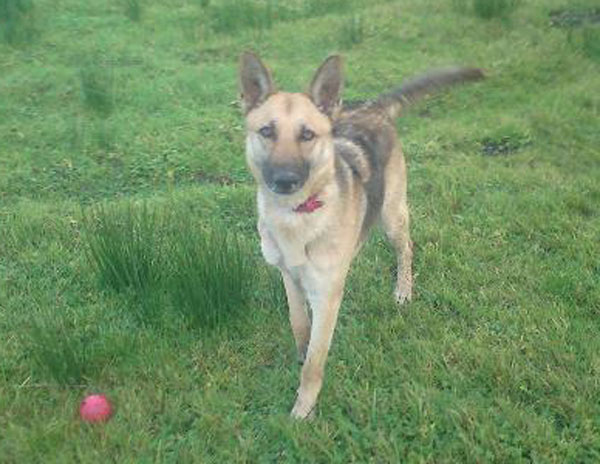 Abby is a gorgeous young bitch, we think she is about 20 months old. She needs a bit of training as she does tend to jump up but does not show any signs of aggression at all. Don't know whether she is spayed.
Jess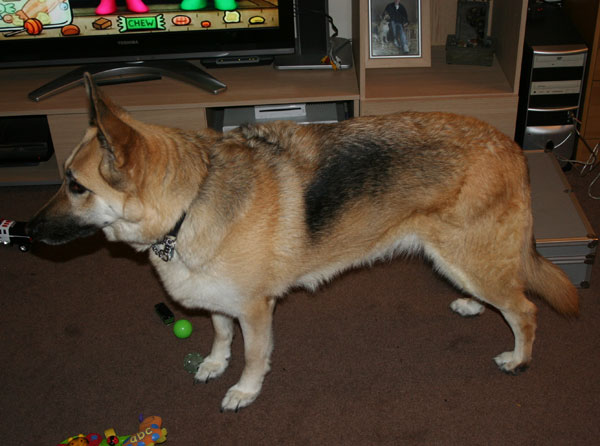 Jess is 3 yrs old she is spayed good with children, cats, and other dogs. Jess lives with another GSD male and is fine, the reason the family are parting with her, is that she barks when left. The neighbours have been complaining this is upsetting the family. When our volunteer went to see Jess she did the usual GSD thing and barked but soon was laying at her feet licking her hand. She did take her out to see what she was like on the lead and she was fine.
Jake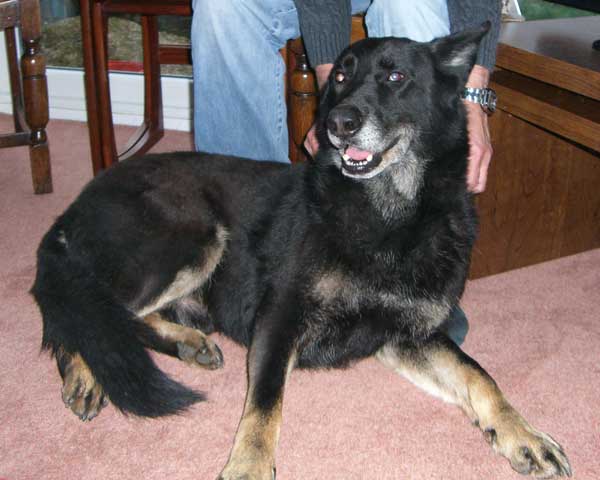 Jake is an 8 year old castrated black and tan dog looking for a new home because of a change of circumstances in his owners life. He was a working dog with the police but was adopted by his present family 3 years ago. He is great with people and children, not so keen on other dogs. He is a very kind dog and in lovely condition..
Ruby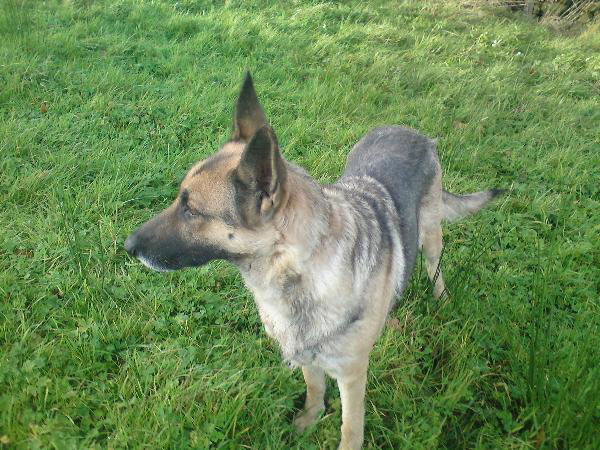 Ruby we think is about 5 years old, she is absolutely gorgeous, doesn't exhibit any aggressive tendencies at all and gets on well with the other dogs in the kennels. She looks as though she has recently had a litter of puppies.
Zola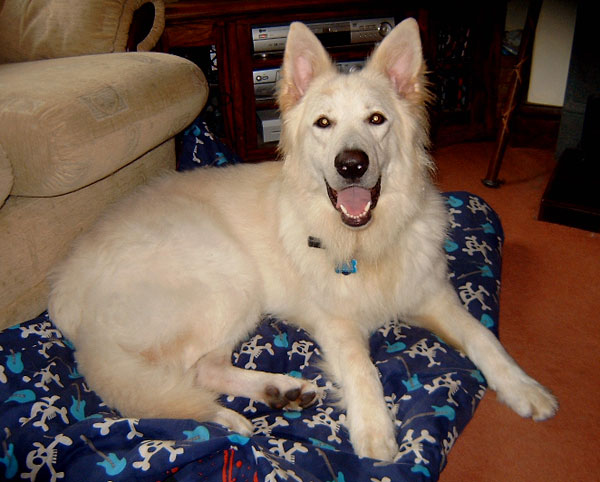 Zola is a large long haired and very handsome german shephered dog (neutered). He has a nice temperamant, is obedient and affectionate and is good around the owners 9 week old baby. He walks well on the lead with his owner and has attended obedience classes. He also loves travelling in the car. Zola jumps up and when out in the garden he barks at passing people and cars. He can be unpredictable with other dogs when out as he likes to be the dominant one. His owners have made the difficult decision to part with Zola because he and his brother have never established who is top dog which means that they cannot be walked together.His brother also has some issues (to the point of being medicated by the vet) which are taking their toll on Zola. Given Zola's size and dominant nature we feel that he would need an experienced owner. The family also feel strongly that he should be rehomed alone but that away from his brother he will really thrive and benefit from one to one attention that he has not had the opportunity for.
Tara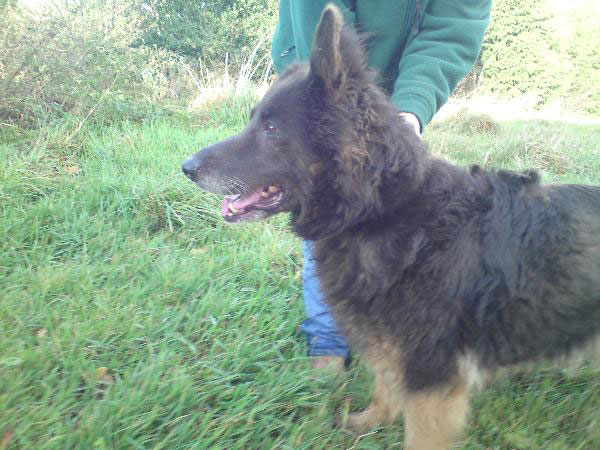 Tara is a gorgeous bitch, about 8 years old, has a cauliflower ear, maybe due to and injury. She found herself in the pound and her days were up so we took her into our care and she now needs a loving home. She has a lovely temperament, good with other dogs.
Mishka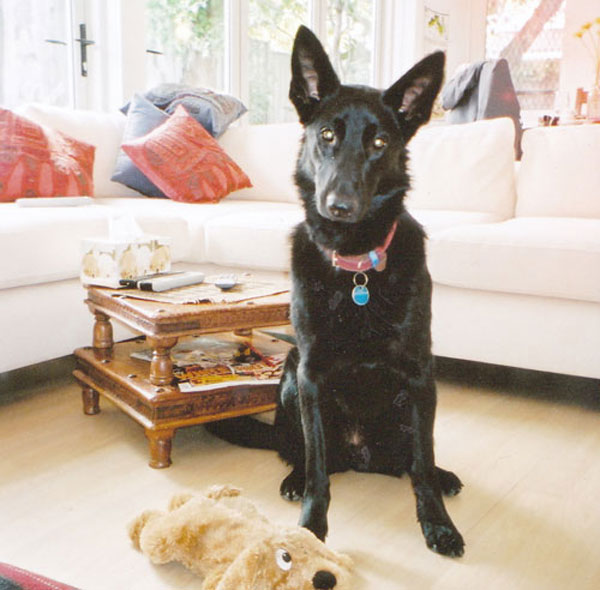 Mishka is a 6 year old black neutered female who needs to be rehomed due her not getting on with one other bitch within the family. She loves cats and children of all ages and is good with other dogs when out walking. She lives on a farm so is used to cows, chickens and sheep, but does tend to want to round up the calves for fun. When travelling she does bark with excitement. Mishka also loves being hosed down and playing in water. There is no food aggression or any other aggression in her she just doesn't like the other female.
Abby and Libby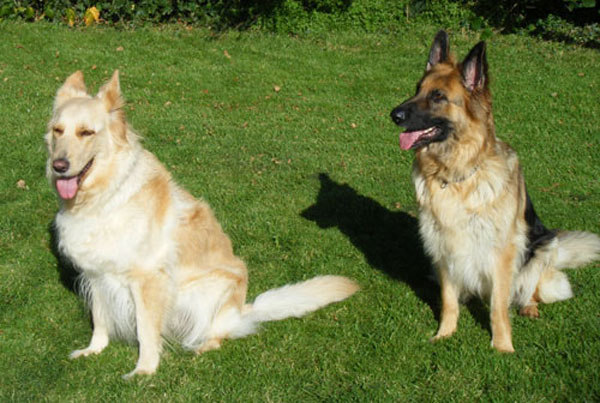 "Abby and Libby's mum died in April of this year and they have been living at the family home with a member of the family but due to work commitments the family are having trouble spending enough quality time with the dogs. Abby is 3 and a half years old, she is a black and tan long haired pedigree bitch. Libby is a 4 and a half years old, she is a white long haired bitch. Both dogs have not been spayed or chipped but the family would be willing to have these procedures done. All other vaccinations are up to date.The dogs are used to long walks on the moors, they have never been walked in a park and they have had very little experience of being walked on the lead. They are very friendly around people, all dogs and ignore sheep, cattle and horses on the moors. They walk to heal when required and also come when called on the moors, but with all shepherds they are never far from your side and like to know where you are at all times. They have always had a lot of company at home, and have been brought up with cats, parrots and tortoises, so they have no problems with other animals. They travel up to the moors by car and are willing to wait in the car while you go shopping, they do not chew or destroy things around the house. Libby doesn't like fireworks or if the smoke detector goes off she will try and find a place to hide. Abby is very excited when you first arrive home but soon settles down especially if you completely ignore her and not make a fuss of her. Over all the girls are beautiful, loving, faithful dogs and the family are looking for someone to give them the attention and time they deserve."