More Rescue Dogs that have been rehomed
1 2 3 4 5 6 7 8 9 10 11 12 13 14 15 16 17 18 19 20 21 22 23 24 25 26 27 28 29 30 31
These are some of the rescue dogs we have rehomed
Storm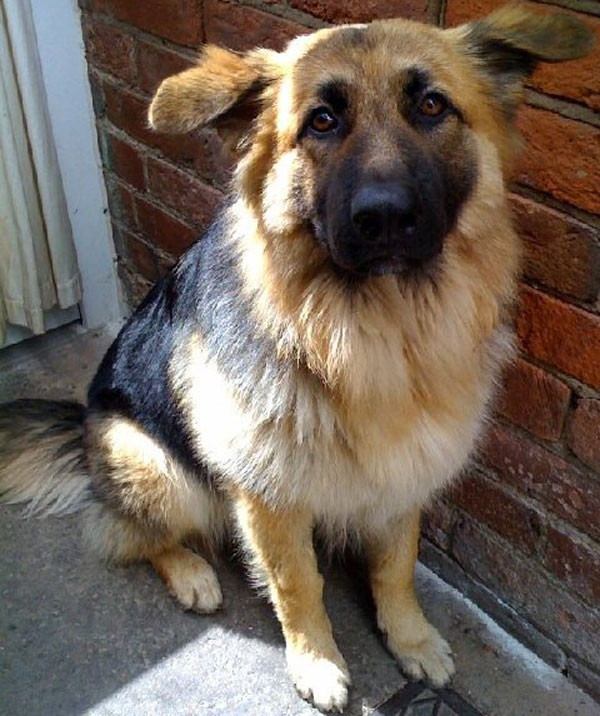 Storm is a wonderful baby girl of only 10 months of age, she is a beautiful long coat black and tan unspayed bitch who loves everyone especially children, she is good with other dogs but she chases cats, Storm is vaccinated. The volunteer fell in love with this beautiful friendly girl who has a very happy disposition, she is only looking for a new family because her present owners feel she is being left too long and feel it unfair on
Riggs - perfect dog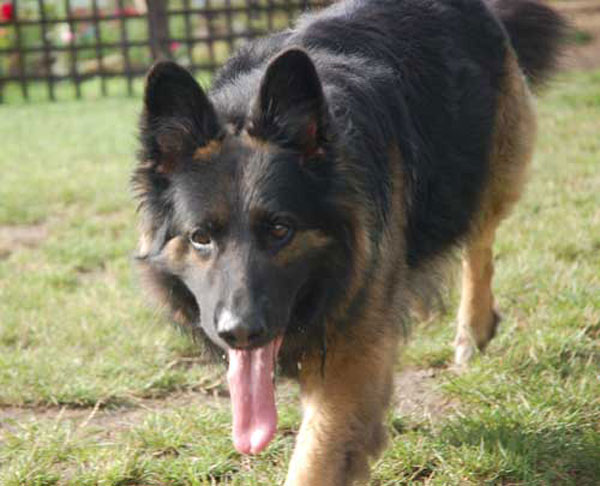 Riggs is a beautiful loving 5 yr old semi coated male, He is good with children and bitches unsure about male dogs, he has chased a cat but with no aggression. He is not microchipped or vaccinated. Riggs is looking for a new home because his owner has moved into a flat and he has had to stay in the empty house with relatives going in to let him out to toilet but this can only be temporary until the owner has to hand the keys in. His claws are disgusting and he obviously hasn't been walked much. Owner didn't know if he was castrated or not!!!!!.
Xena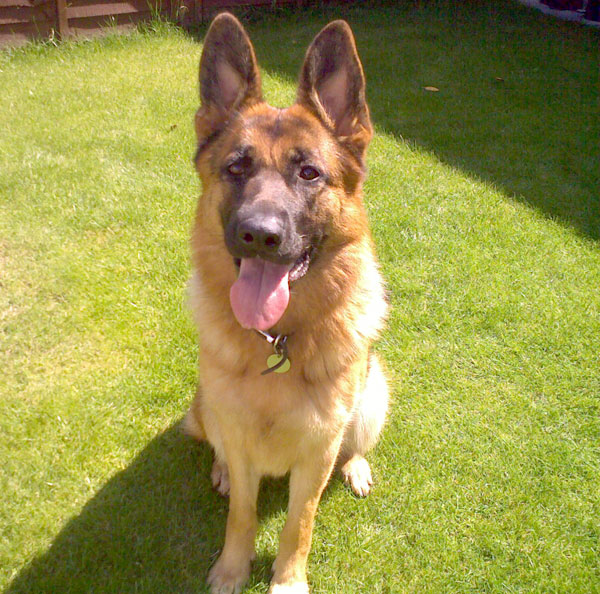 Xena is a 10 month old black and tan short coated bitch, she hasn't had a season yet. she is fully vaccinated and chipped good with children and dogs. Xena is just a baby and is VERY VERY VERY BOUNCY but really loveable, she greeted the volunteer with open arms but was constantly jumping up and mouthing her hands, she will snap at your face if you get down to her level just like a small puppy would but she isn't doing it in a aggressive way just playing and has never been told any different. Xena pulls on the lead but this is mainly because she is walked by children and again this has never really been worked with but could easily be sorted out with regular exercise and training. She hasn't lived with cats and if a cat runs she will run after it, but has never attempted to harm one. She is used to being crated and is good in the house. Xena lives with young children but her owners now feel that she needs more time and space than they can give her, she has so much energy and runs round constantly and the owner feels she is not happy. Xena also has a sensitive tummy and can only eat Royal Canin sensitive food. She will need to go to an experienced GSD owner who is willing to put in the time and training once her few teething problems are sorted she will be a fabulous example of the breed, Because she is so active and bouncy we will only rehome her with teenage children.
Buster and Drake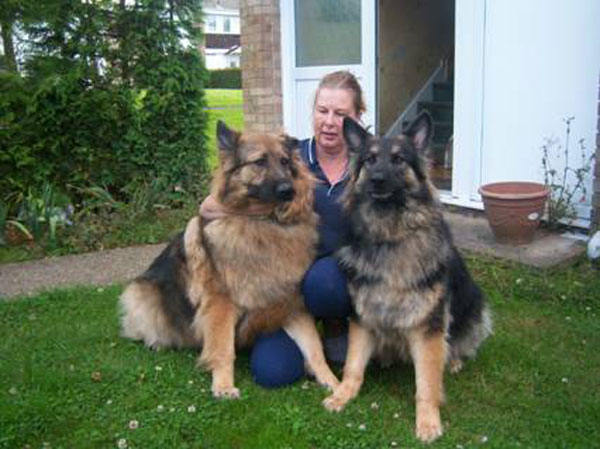 If you want something cuddly and warming after a long winter walk then these two gorgeous boys could be yours. They are absolutely fabulous. They are good with children of all ages. Both have fantastic temperaments and just want to play and have a fuss made of them. They are both a tad overweight due to a lack of exercise and do need a bit of work on the lead. These two brothers have been together all their lives so a home together would be preferred for them. Due to the currently owners work and allergies these two dogs are up for re homing.
Rex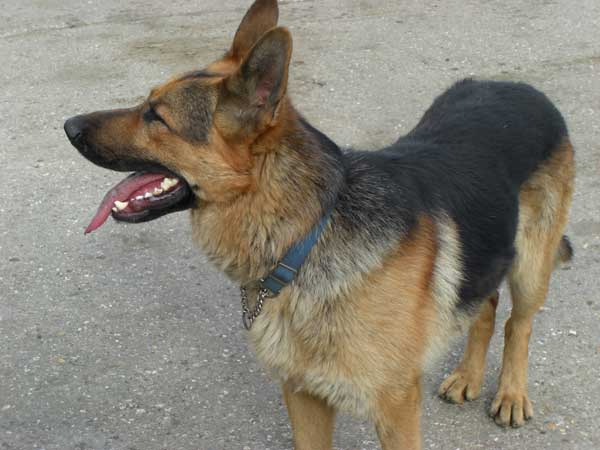 Rex is a gorgeous bouncy 3 yr old entire dog. He is short coat Black and Tan. He is fully vaccinated and has been wormed and fleaed on a regular basis. Rex's owner is disabled and although walked daily he has a lot of energy and the owner is struggling to keep up with his demands. Rex is good with other dogs he currently lives with 2 other GSD's one being his father, but will bark at other dogs when he's on the lead. We were told he will bark at strangers but was fine with our volunteer. Rex is very ball obsessed which will need controlling, has a lot of energy he needs to go to an experienced GSD owner who would be willing to socialise him, be prepared for lots of walks and willing to put in the time and effort with him. Rex hasn't really mixed with young children so would need to go to a home with older children or an adult home only, he is a lovely looking young dog and will make a lovely companion for the right person.
Zoe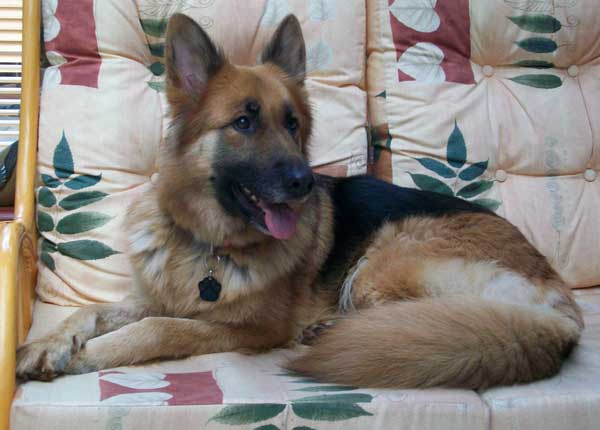 Zoe is a semi coat not spayed but jabs are up to date she's 4. Someone should snap this gorgeous girl up very quickly. She has a wonderfully sweet temperament and is good with people and dogs and has been fine with fosterers cat and guinea pigs. She has had zero training so is learning manners at the moment and is proving very trainable. She pulls on the lead but has good recall and will sit. She has over bonding issues and is quite needy so her new owners will either need to be a multi caring household to prevent her from becoming too clingy to one person or she should go to someone who has experience dealing with separation issues. She's settling quite well in a crate and this helps. She obviously hasn't been mistreated, just low priority in her previous home. She is integrating quickly into fosterers household and won't fail to bring loads of love into her new home...
Sabre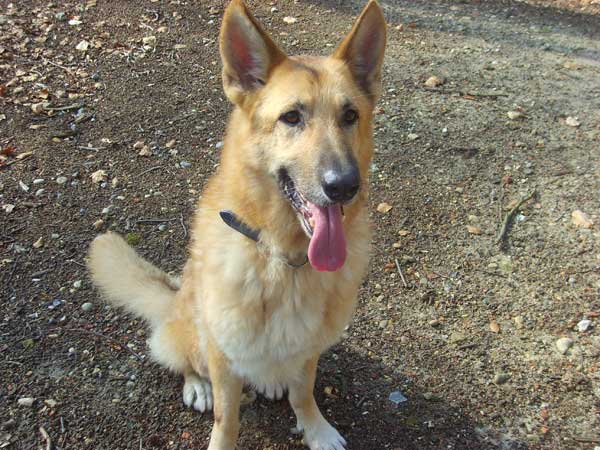 Sabre has a soft, affectionate nature with no signs of aggression. He needs to be re-homed as the local children are making him nervous when he is in his back garden and the owner is afraid he may bite them. The family have children and there are no problems with them. Sabre is obedient but does pull slightly on the lead. Off the lead he does tend to rush in to other dogs to greet them but then backs off. He is not good with cats and can live with other dogs.
Oscar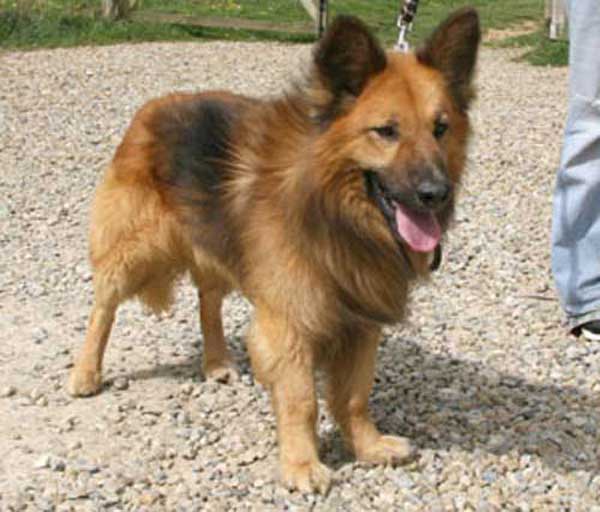 This handsome hairy lad is now with us but he is not doing well in kennels. He is not a large GSD and he is a little underweight underneath that lovely long hair. Oscar seems quite placid and is pleased to meet other dogs. He likes to do his own thing and enjoys sniffing around.
Derrick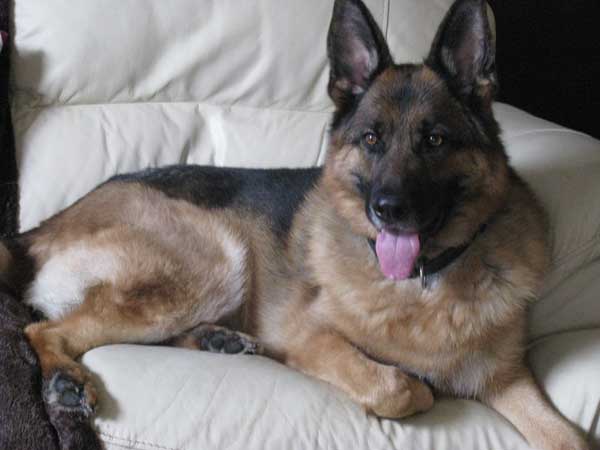 Derrick is 4 years old and a really handsome lad, he is neutered and vaccinated. He's Ok with other dogs, lives with a bitch at present. Tends to be a bit exhuberant with small children and would be better homed with older teenagers. Not lived with cats but doesn't show any concern when neighbouring cats sit on the fence. He is really friendly when people go to the house, doesn't show any aggression at all, just brings his toys to play. He is in urgent need of a loving home due to chaning circumstances.
Abbi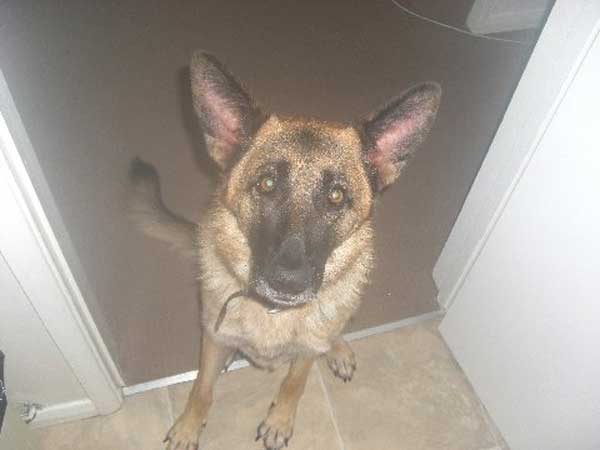 Abbi is not getting the walks and attention that she deserves, the lease is also up on owners rented accommodation and the landlord is not keen to renew with Abbi in the house. Abbi is a lovely friendly girl, she loves people and children, she lives with a 10 and 11 year old. She greeted our assessor in lovely manner and did not bark. She dosen't get on very well with dogs outside, but assessor felt that with an experienced GSD home this could be worked on. Abbi was imported from Germany as a show dog, she was shown for 3 years, then the next owners had two litter from her. This girl really has been passed around a bit and deserves someone that is going to give her a forever home and work with her. Can you help Abbi?.