More Rescue Dogs that have been rehomed
1 2 3 4 5 6 7 8 9 10 11 12 13 14 15 16 17 18 19 20 21 22 23 24 25 26 27 28 29 30 31
These are some of the rescue dogs we have rehomed
Tyson 2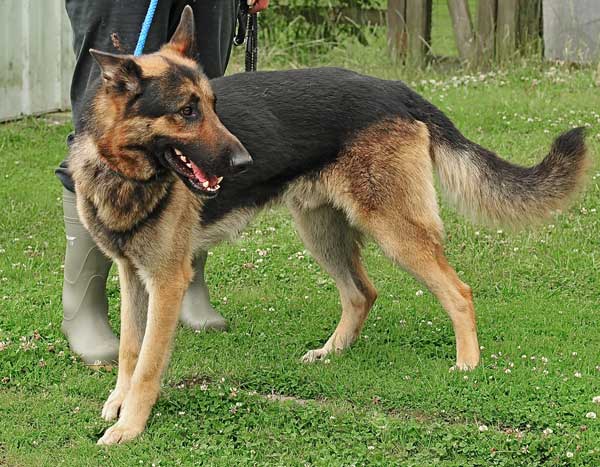 Tyson came from the pound so not much is known about him. He is a young lad about 18mths - 2 years, not well socialised with other dogs and definitely doesn't like cats. He is OK with people. He needs a home, he is distressed and confused at being moved around and being in kennels
Aca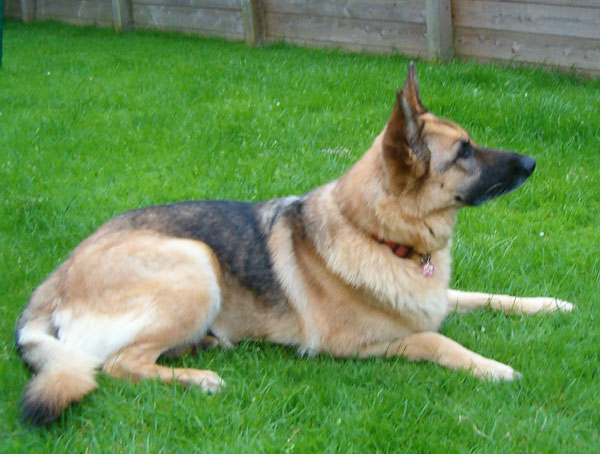 Spayed, chipped, and tattoo. Aca is a 6 year old shorthaired black and tan bitch who is highly trained obedient dog, her owner has obviously spent many hours working with her, she has a Bronze and Silver good citizen awards, she has had her teeth cleaned on an annual basis. Aca greeted our volunteer quite very relaxed little girl, walks really well on the lead and if she does get ahead of you will return to you when asked. She is excellent in the home although doesn't have the full run of the house. Aca has never really been allowed to mix with other dogs they aren't a problem for her though. She isn't motivated by toys.. but she loves to travel in the car. Aca does not like Cats! She would make a lovely companion for someone who is looking for a very easy going dog. Her owners have had Aca since she was 8 weeks old but they are moving to Cyprus and feel the journey and the hot weather would be too much for her.
Shelley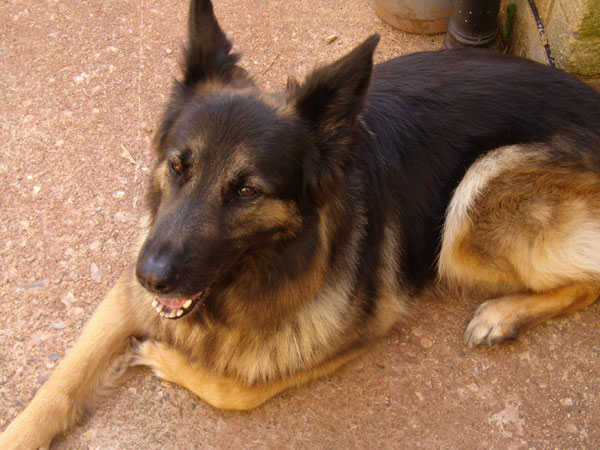 Shelley is a 6 year old long coated black and tan bitch , she is being rehomed because her owner could no longer keep her she has been in a foster home for the last couple of days and this is what the foster carer has to say about her. Shelly is a lovely, faithful girl. very affectionate and sweet natured. she is clean in the house, very obedient. pulls on the lead a little but I think mainly through excitement, Shelley used to live in a flat for the last 4 years of her life getting very little or no exercise, because of this she isn't used to travelling and was a little uncomfortable. She has been staying with 2 male German Shepherds and can be a bit dominant and protective over her food bowl and toys, but is great with people and loves attention. Not spayed
Tess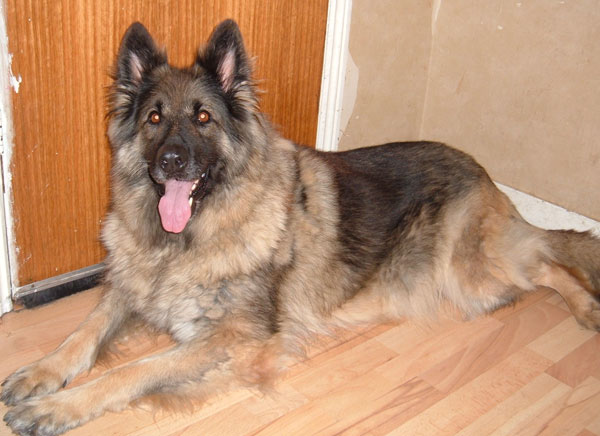 Tess is a long coated back and sable bitch of around 4/5 years old. This poor little girl was just given away after having 4 litters of puppies as she was no longer useful! She is currently in a home with 6 children the youngest being just 2, she has a very loving and gentle nature. Tess does not like cats, she is living with another dog but can be dominant so may be able to live with a male with careful introductions. Tess isn't been left at the moment but with her nature she should be ok to be left for a few hours, we would like her to go to someone who will give her all the love attention she so now deserves.
Boo 2yrs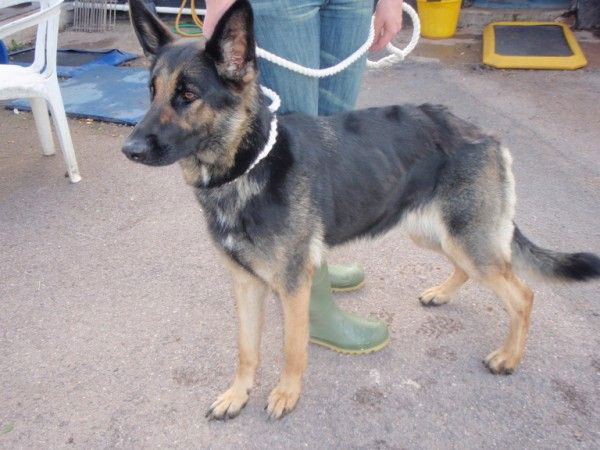 Boo is a beautiful looking, slightly nervous 2 year old bitch. She needs an understanding home, possibly as the sole pet and with older children only. She will be a loyal pet but needs to learn some commands, especially, we believe, recall.
Ed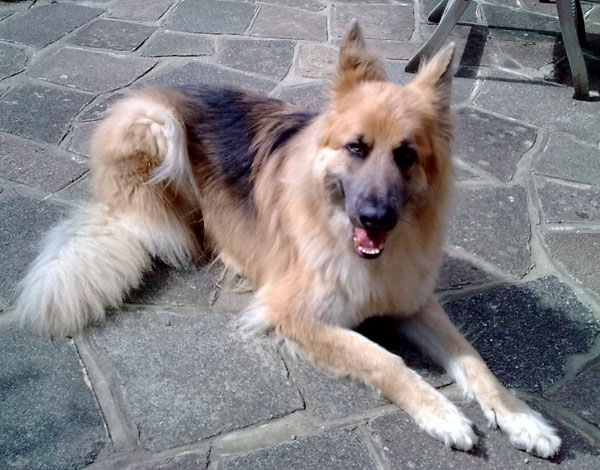 Ed is a handsome long haired Blue Masked Sable male who is 3 years old. He has been neutered. He will require a GSD experienced home as he is very nervous of strangers, especially men. Saying this, he settled in within 24 hours and I can now do anything with him.His foster family consists of 2 other dogs and 2 cats. Having never lived with cats before he seems totally nonplussed by them. Ed has also now met horses and seems to have the common sense to give them a wide berth. He is very obedient and an angel in the house and car. He is affectionate and wants to be with you and please you all of the time. According to his old owner he likes children but I think Ed would be better suited to a family with older children or no children due to his nervous disposition. He would love the company of another dog and would be much happier with someone who was at home most of the day. And watch out for his party trick - he can open any door with a lever handle! Ed is looking for a new home because 2 weeks ago he a fit this was the first one he has ever had, unfortunately before he became conscious old owner thought it would be a good idea to comfort him, Ed bit her because he didn't know what he was doing, he has been examined by the vet and there is no medical reason for the fit. No one knows at this point if he will fit again and currently is on no medication. Please don't let you put this off this gorgeous boy fits are easily manageable. and he can still live a full and active life.
Shadow - he's the one at the front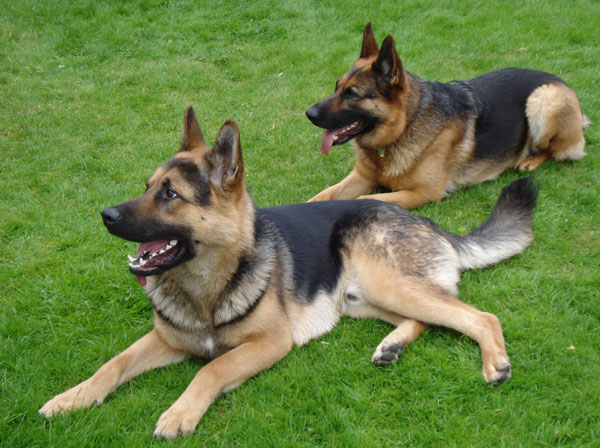 This is a lovely boy he came in with sister Ella who has now found her new home, When Shadow came to us he was very excitable and bouncy he has now calmed down and a very happy dog. he has never shown any aggression to any of the other dogs, the cats around he looks at but when asked to continue on his walk he does so with no bother. He needs a family that likes exercise as he will need lots to burn off his energy. He is fine with children no aggression but we feel he may be better suited with older children just because of his size and the fact that he is still bouncy and may knock them over.He has been vaccinated. All in all will make a very good family dog. Although crossed with an Akita Shadow, has the temperament of a GSD. He is happy to be with you and will make someone an excellent 'pal'.
Bella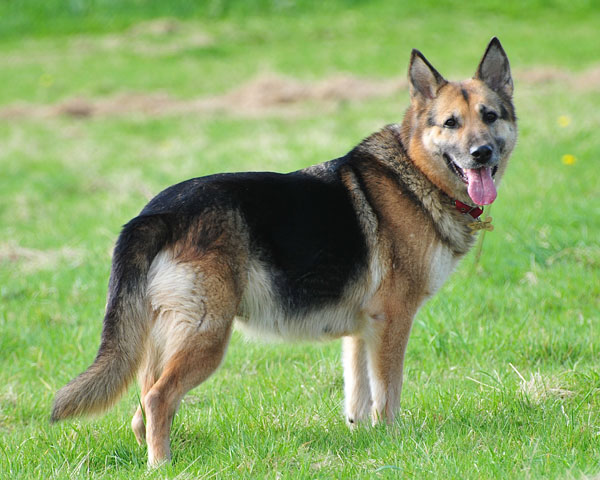 Bella came into the hands of the rescue mid March 09. She had been put up for sale in an internet advert, the pictures of her tied up in a type of open wooden box makeshift kennel with barely any room to turn around, with no bedding, food or water visible were extremely distressing to view and we would not want you to see her in this state, so have not printed them. To add insult to injury Bella was advertised as being pregnant and would give birth in so many weeks. We at the rescue thought this was possible a scam to try and sell the dog on. The rescue purchased the dog from the advertisers and transported her from this London hell hole she was in in to a foster home. There from a routine vets scan we discovered she was indeed pregnant. Bella has remained in foster since March, has bore 9 stunning puppies that have all found loving homes through the rescue, she has tended to her babies and been an excellent mum to them. The time is now approaching for Bella to find a loving home of her own too.
Bella would possibly suit a lady on her own, no other dogs or cats, a nice retirement home required. Someone who understands the breed when a GSD bonds and becomes protective. She has been a very loving dog towards her foster mom. Bella needs to get back in shape after the pups as she has put on some weight, she is also in the process of molting heavily after having the pups, so does not look at her full best at the moment. She will be spayed before rehoming.
Gypsy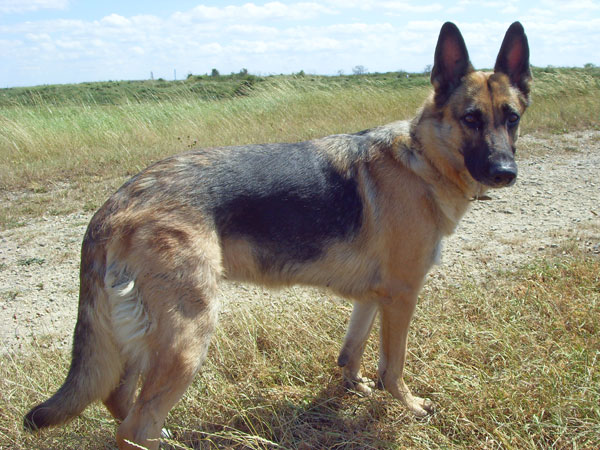 This lovely lady is Gypsy –she is an unspayed black and tan short coat. Gypsy is good with children although a little boisterous so older children would be preferred. She is good with other dogs, and currently lives with two small dogs. She is unknown with cats but owner said that she does bark at the neighbour's cat. She is currently being left for long periods and is not destructive, is also said that she lets herself out when she needs the loo!!!! She is not aggressive and was pleased to see our assessor. She likes going out for walks, does pull slightly on the lead, but loves to play ball (although doesn't do share!) and run around. If you want a sweet girl then she is for you. Being re homed due to owners work commitments.
Bonnie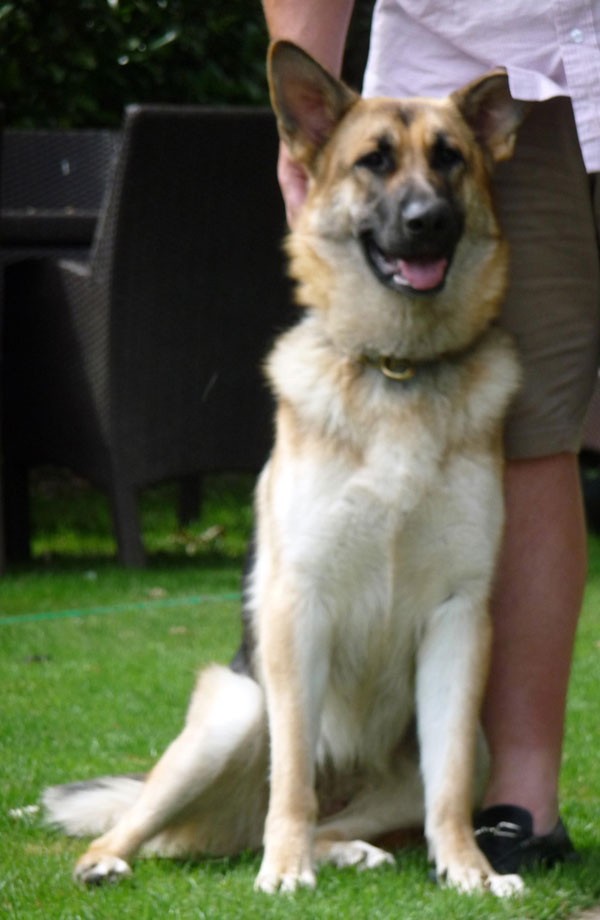 PLEASE MAKE SURE YOUR HOMECHECKS ARE COMPLETE BEFORE APPLYING FOR THIS DOG AS SHE WILL BE SNAPPED UP. This is Bonnie an 11month old female and she is beautiful. Bonnie currently lives with another 11 month old male GSD who is bullying her and a female Labrador. She is good with children, I had my 7 year old child at the assessment and she was great, that said she also lives with three children aged 8, 13 and 18 years. She is unknown with cats; however, the owner's said that she is so laid back and accepting she would probably be okay. There are chickens in the garden and she is not bothered by them. She is microchipped and fully vaccinated. She is good on the lead and knows all her basic commands. Apparently Bonnie went off to "school" so has been trained properly. Bonnie is a very easy dog that is a stunner and will make a fantastic family dog.